Looking for weed in Miami? We have all the info. Find dispensaries in Miami, information about cannabis laws in Miami, and more at the link below. Check it out!
If you want to buy weed in Miami, there are several things that you need to know.
The state of Florida legalized medical marijuana in November of 2016 via Florida Amendment 2 and there are now legal dispensaries all over the state.
Finding a Miami weed dispensary is easy as there are more than 15 locations currently open. If you are looking to find weed in Miami, take a look at our recommended list below.
As far as Miami weed delivery goes, we have a few options as well. For non medical card holders recreational weed in Miami is still illegal but we have some options for you. Keep reading to learn more about weed in Miami.
Best Option For Recreational Miami Weed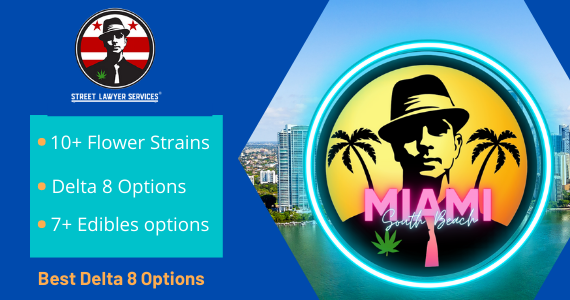 Lonny the Street Lawyer services is one of the most successful smoke shops in DC. They are now officially a storefront for Miami weed in the form of Delta-8-THC and also cannabis gifting options. Delta 8 is a legal form of cannabis with a lower THC content. Delta 8 is sourced from hemp, and is less potent than traditional Delta 9 THC.
For gifting options of cannabis contact Street Lawyer service directly.
For tourists, however, Delta 8 is not a bad option as you can fly in, purchase legal Miami weed in the form of Delta 8 and have zero hassle with medical cards and the law.
Miami Weed Dispensary - The Best of 2021
Miami cannabis has developed quite a bit over the past few years since cannabis was legalized. Finding a Miami weed dispensary that truly delivers in quality and a fair price can be a bit tricky.

We drew up a list of some of the top dispensaries to buy weed from in Miami. The following recommended medical marijuana shops have the best weed prices in Miami and of course the best quality buds.
1. Grow Healthy North Miami Cannabis Dispensary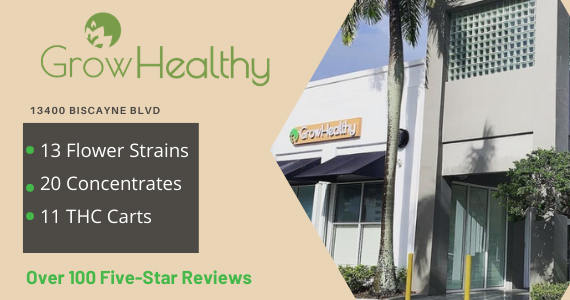 Grow Healthy is by far one of the best Miami weed dispensaries. The cannabis is top notch, and they offer many options for weed edibles in Miami as well. With top brands such as Frutful, MPX, and Signature Blend Series, this Miami cannabis dispensary has excellent service with premium strains.
2. Curaleaf Miami Dispensary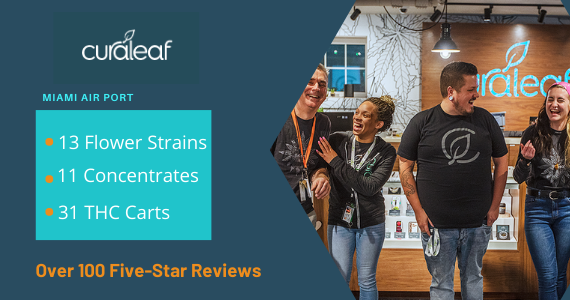 We checked out Curaleaf and we absolutely loved the quality of their indoor grown cannabis. As far as Miami weed goes they have amazing options such as Grape Diamonds and Ground Orange Kush Cake. Curaleaf has a ton of weed cartridges for vape lovers, the biggest inventory we've seen so far as far as Miami cannabis carts are concerned. They have two locations in North Miami Beach, and one in Deerfield Beach.
3. Fluent Miami Marijuana - Best Weed Edibles in Miami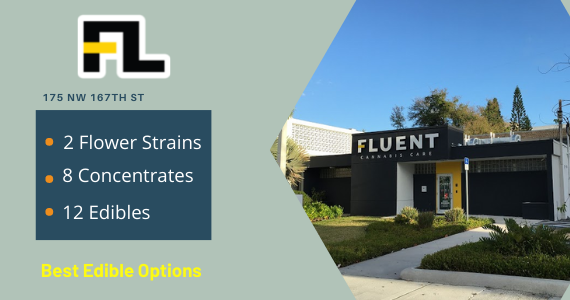 Fluent may have slim pickings as far as cannabis strains go, but their quality and price are great. Currently, they have the most options for edibles as most Miami weed dispensaries only have one or no options for edibles. Fluent has12 flavors of edibles available at only $25. The Sour Strawberry Lemonade Gels boast over 225 reviews!
Is Weed Legal in Miami - Miami Weed Law
Is marijuana legal in Miami? We know the majority of people asking this question are residents asking if they can legally buy medical marijuana, and tourists looking to buy recreational Miami cannabis. This section pertains to legal Miami cannabis; for recreational needs skip the section below.
Currently, you must have a debilitating medical condition to purchase weed in the state legally. Qualifying conditions for medical marijuana patients include:
Cancer
Epilepsy
Glaucoma
HIV/AIDS
Post-traumatic stress disorder
Amyotrophic lateral sclerosis
Crohn's disease
Parkinson's disease
Multiple sclerosis
Medical conditions of the same kind or class as or comparable to those listed
Terminal illness
Chronic nonmalignant pain


You must obtain a doctor's certification before you can purchase cannabis from a dispensary. A physical exam is necessary, as is a full examination of your medical history. If you are a minor, your parent must seek this certification on your behalf.
Currently, Florida does not allow out-of-state medical marijuana cardholders to purchase cannabis products. With that being said recreational Miami weed is still illegal.
You may take the risk and try to find a local dealer or grower, but it's not recommended as you may face criminal charges if caught. No worries though, keep reading in this article and we will show you other ways to help secure that daily high you are looking for.
Let's take a deeper look at Miami marijuana laws:
Miami Cannabis Medical Possession Amounts
If you're a qualified medical marijuana (MMJ) patient, you may possess up to a 70-day supply of cannabis in smokable form. Everything must be bought from a licensed dispensary and remain in the packaging it was purchased in.
How much your 70-day supply contains is up to your doctor, but if it's in smokable form, a 35-day order from your doctor cannot be more than 2.5 ounces at a time. You may possess no more than 4 ounces of smokable MMJ at any given time.
Miami Dispensaries Possession Limits In Florida
Buying weed in DC or New York is completely different from Florida. Everywhere you go will have different specific possession limits. If you have less than 20 grams of weed on you in Florida, the charge is a misdemeanor with a maximum of 1 year in jail and a $1,000 fine. More than 20 grams, though, and you're looking at 5 years and a $5,000 fine.
Possession of hash is a felony, as is possession of concentrates without a medical card.
Possession Limits In Miami-Dade County & Miami Beach
You can possess up to 20 grams of cannabis in Miami-Dade County and Miami Beach if you're willing to pay a $100 fine if you get caught with it.
How to Buy Recreational Miami Weed
If you're looking to buy weed in Miami and you don't have a medical card you still have a few options.
We don't recommend you trying to secure a dealer especially if you don't know anyone in the area. One of the safest ways to get your high is by trying what is already very popular with Miami locals who don't have a medical card.
And that is Delta 8 THC.
Delta 9 is what you generally smoke as far as THC is concerned. Delta 9 is naturally produced through the cannabis plant. Delta 8 occurs when THC degrades over time as a result of general exposure. Delta 8 can also be extracted in the THC form from cannabis or by converting delta 9 into delta 8.
Delta 8 Pros and Cons
Delta 8 isn't the perfect form of THC. It is usually half as potent as delta 9 so you would need to smoke twice as much and this can get a bit costly. With that being said Delta 8 doesn't hold all the side effects regular THC (delta 9) carries.
Smoking delta 8 will give you a much cleaner high with zero anxiety and paranoia. You have clarity and this may be a much better option for people in general.
One of the biggest benefits of Delta 8 is that because it's less than 0.3% THC it's considered legal in all 50 states. This means you can safely ship delta 8 right to your door or your air bnb in Miami. You can go to any local Miami smoke shop and order delta 8 without any restrictions.
If you don't have a card to purchase from a Miami weed dispensary, delta 8 is a much safer option than trying to purchase Miami cannabis from a dealer.
Is Miami Weed Delivery Available?
Miami weed delivery is absolutely available. You will need proof of your medical marijuana card but a Miami weed dispensary usually will offer to deliver cannabis right to your door. While many states are delivering recreational weed, Miami has yet to fulfill the need.
For those of you that can't get a Miami medical marijuana card, your best bet is to run to your local smoke shop and pick up some Delta 8. You may need to smoke more, but it can give you a similar high to regular cannabis. As far as getting it delivered you can order from any vendor across the state and get it shipped directly to your address as Delta 8 is not illegal in Florida.
Buy Weed in Miami Checklist
If you are a Florida resident and you qualify as an MMJ patient with any debilitating conditions then you can easily be approved for a Miami medical card to purchase cannabis. For tourists you will need to get a bit creative if you are looking to score your daily THC high.
The only legal weed in Miami is from a Miami weed dispensary with a medical marijuana card.
The only legal Miami weed delivery is through Miami dispensaries and you must be an approved card holder.
Recreational Miami marijuana in the form of (Delta 9) is currently illegal in both state and federal laws.
If you are looking to buy recreational Miami weed, your best bet is to go to any smoke shop and purchase Delta 8.
Delta 8 is less potent but is legal in many states so there will be no risks there, just a good, clean high.
While cannabis laws are changing every year, we expect Miami to slowly come around and legalize recreational weed. For now there are some nuances before you can purchase Miami weed. Make sure to check out our directory so you can find your next favorite Miami weed dispensary.