Before we get to the details on how to buy weed in DC, we wanted to let you know our favorite spots in town.
Gifted Curators – Adams Morgan's #1 storefront.  A Street Art Gallery with a diverse selection of boutique exotic flower, edibles, and pre-rolls along with some amazing digital art along with your purchase. Go check out the awesome art in their gallery and their selection in their safe 2nd-floor gallery.
Peace in the Air – Set inside Adams Morgan clothing staple Grindstone Universal,  you'll get some amazing flower, edibles, and pre-rolls along with some digital music with your purchase.
Street Lawyer Services – If you're looking for a spot on H street, this is your place.  Fast, fun, and a great selection of all your favorites.
VIP Clientele – One of the OG's in I-71, they bring to you some of the better products you'll get in DC
Are you a fellow weed connoisseur living in DC or just passing through?
If so, you may find scoring weed isn't as straightforward as you thought. You'll need to learn how to find weed in D.C. safely, then you need to know how to buy it legally.
Washington DC legalized recreational marijuana in 2015, and nearly five later people are still confused about just how this law really works. Even though you'll understand what you need to know by the time you finish here, you may still end up asking yourself the question again – Is weed legal in D.C. with so many hoops to jump through?
If you're in the nation's capital and you want to blaze while you're here, consider this article a guide to navigate the grey market gift system of buying pot in DC. It's actually easy to do once you know the ropes.
How To Buy Weed In DC
The passing of Initiative 71 made it legal under DC for persons 21 or older to possess 2 ounces or less of marijuana.
Initiative 71 also allows adults who are at least 21 to give — as in, for free—up to an ounce of cannabis to another adult who is at least 21. Consumption may take place only in private at your home – no your car does not count. No one may use, possess, exchange, or cultivate marijuana on federal property, of which there is quite a bit in DC.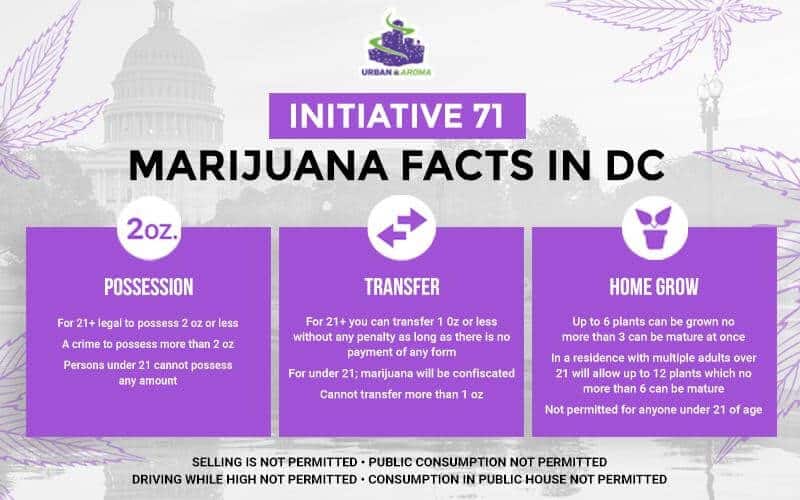 One of the first major issues is that while it's legal to have marijuana in DC, it's not legal to buy it anywhere in DC. So how does one acquire weed if no one can legally sell it to you?
The key is that while DC residents cannot sell marijuana, they can sell other items for roughly the same price they would charge for weed in DC. For example, if you purchase a sticker, art canvas, or a t-shirt, you are then offered marijuana as a free gift.
Growing your own weed is another brilliant option I71 grants you.
Obviously, growing takes skill, patience, time, and energy. Not to mention expensive equipment. But it allows people to get around restrictions on the sale of marijuana.
So if you looked in the mirror today and realized you are not a horticulturist expert and you don't want to grow your own weed, then we have three other I71 compliant methods for you to buy weed in DC.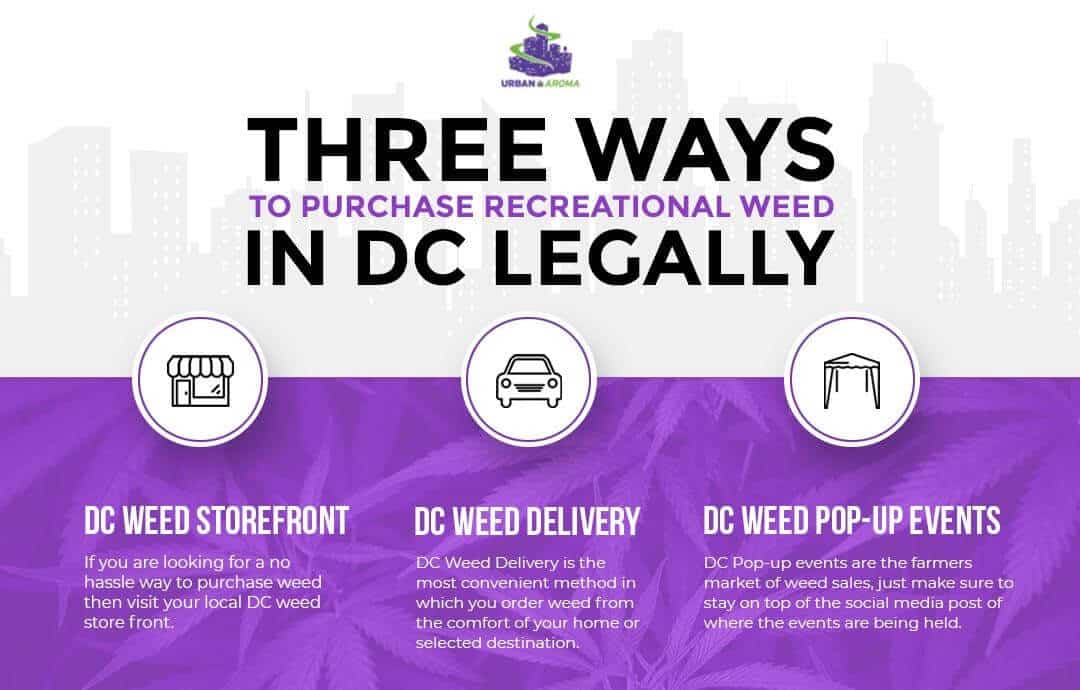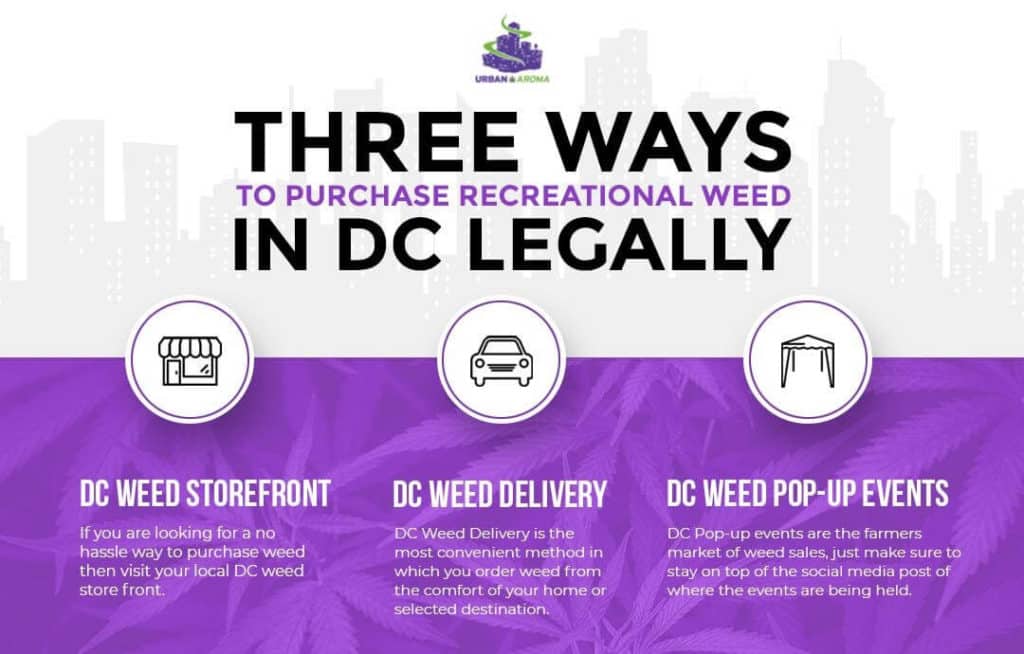 DC Weed Shops
One option for how to buy weed legally in DC is to take the direct route. There are plenty of weed stores in DC that sell a variety of regular items.
Of course, you'll end up paying a higher amount of money for a hat or t-shirt. However, as far as the law is concerned, you did not purchase weed, and this is staying compliant with I71.
Urban Aroma is DC's #1 trusted directory, listing only the safest, most trustworthy, I71 compliant DC weed stores. Check out our DC weed dispensary directory to find your daily high.
How Does DC Weed Delivery Work?
Not big on getting out to buy your pot?
Another option is to order weed directly to your door or location of your choice!
To do this, simply find a DC weed delivery service online. Not every delivery service is up to par so we did the leg work for you and found the best D.C. weed delivery services. Pick your product and wait for the friendly staff to show up with your item and cannabis gift.
Keep in mind, DC weed delivery is a relatively new concept so delivery times may vary, but your patience will pay off in the end.
What Are Pop-Up Events in DC?
What does buying marijuana from a DC pop-up event look like? Picture a farmer's market or trade show…minus the fruits and veggies, substituted with cannabis!
This option for buying pot in DC is certainly an experience but may lead to a run-in with the law if you don't wisely select the DC pop-up events. Many have been caught distributing weed to minors which is not compliant with I71 and leads us to our next topic…
How Old Do You Have to Be to Buy Weed In DC?
It may come as no surprise that you have to be 21 or older to buy weed in DC. Just as it is with buying alcohol. You will be asked to present a valid form of government-issued identification with any of the above options for buying weed in DC.
Now you know the answer to, "Is weed legal in DC?" is yes – but with a lot of nuances. If you're looking for delivery, pop-up events, or a dispensary, search our trusted DC weed directory. We have all the information you need to find your new favorite vendor.
Conclusion
The DC community is adjusting beautifully with the Initiative 71 law and blossoming new ways for residents and tourists to purchase their pot in DC. Let us know all about your experience in the comment section and if you have another method to purchase weed legally in DC that we have not mentioned please share below!
Urban Aroma
Average rating:
1 reviews
Apr 20, 2020
Must Read
Best article out there. Read this and was able to buy some weed with no issues in less than an hour. Short and sweet. Thanks whoever wrote this!