NYC Weed Delivery Favorite
Before we get started on explaining how the NYC Weed game works, please see some of our favorites in town. 
Jumpin Jack Flash is New York City's premier cannabis delivery service.  A true OG in the NY scene, they have an extensive menu of high-quality THC flower, concentrates, vape cartridges, tincture, edibles, and CBD products. They also deliver to all five boroughs.
To order from them, you can reach out on telegram – @jumpinjackflash212 for your discrete, professional, and contactless delivery.
You can download telegram messenger from the app/play store. Please mention Urban Aroma in your message when you reach out.  The good thing with these guys, they NEVER ask for money up front so if for some reason anyone asks, you know it's not Jumpin Jack
Pizza Pusha is a must! If you are in Woodhaven, Queens, or Jersey City, you can pick up for yourself. Otherwise, you've got the amazing option for delivery. This unique weed delivery service bakes THC into their pizza pies. What? Best of both worlds!
Pizza Pusha has an easy process:
Step 1: Give your IG username
Step 2: Are you picking up or getting delivery?
Step 3: If pickup, pick your location, Woodhaven, Queens, or Jersey City
Step 4: If delivery, what's the address?
Step 5: What time would you like your order to be delivered or picked up?
 Don't forget to tell them Urban Aroma sent you!!
Weed in NYC
If you've ever visited the big apple, you know the extent of variety of all things compared to any other city. Whether it be food, clothes, artwork, bars, you name it, there's no shortage of options.
So, when we're talking about beloved marijuana, what is the best way to go about obtaining weed while in NYC?
Before getting into the nitty gritty of how to find weed in New York, let's discuss something to be noted prior to the search for it.
Is Weed Legal In NYC?
Marijuana is decriminalized in New York.  While weed isn't technically legal, possession was decriminalized as of August 28, 2019 when a bill was passed to do so. Residents and tourists, alike, can publicly possess or smoke up to 2 ounces of weed without criminal penalties.
The new law changed the possession of marijuana from a low-level misdemeanor to a criminal-violation. Thus meaning, police won't arrest you but they can issue a summons that could potentially lead to fines.
Penalties? Yes. On the low end for 1 ounce of pot or less, $50. And anywhere from 1 ounce to 2 ounces, a max of $200.
While violations are not convictions, criminally, there's consequences still. The fact that violations do show up on your record can shake some people.
Furthermore, if you are caught smoking weed in public and you don't have identification on you, you could get pulled into the station and arrested. This means be careful where you smoke.
For those that don't mind a little scare tactic from a minor run-in with the law, let's move on to the important stuff!
The Dangers of NYC Weed Delivery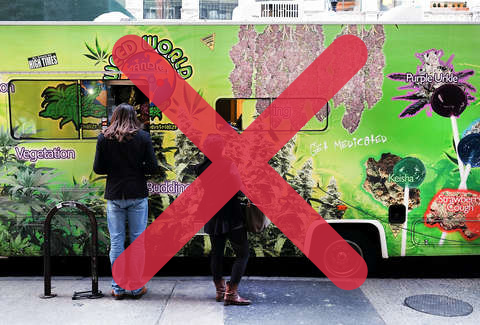 There's been a lot of buzz going on about the edible trucks and weed vans that you see driving around the streets of New York.
Everything from the banners on these NYC weed trucks to what they advertise online gives the impression that their products include THC.
Do not be fooled. The products sold by these weed trucks and vans do not contain any THC in the slightest. You will think you are about to get a good high from eating one of these edibles or sucking on one of the weed lollipops only to find out you will not get high.
If you spot these weed trucks in NYC, don't be like the kids in neighborhoods running to get ice cream from the ice cream trucks. You will be severely overcharged for a lollipop or brownie. Just like buying designer bags off the streets of NYC you will not get a trustworthy product.
So, how does a tourist or local of NY get a weed product they know they can trust?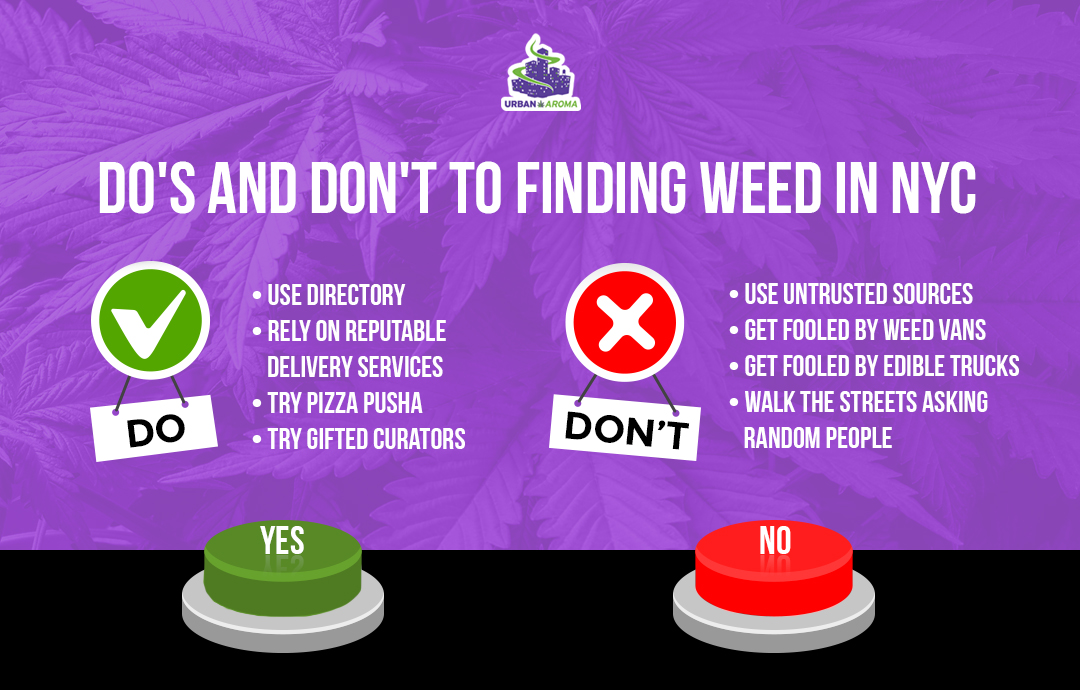 Weed Delivery In NYC
For residents and tourists, weed delivery in NYC is a fan favorite. With all the hustle and bustle in the city, who doesn't appreciate the idea of having weed brought to them in the comfort of their own home?
Weed Delivery in New York is very popular for tourist because pot will be delivered to your hotel room upon request. The process is easy once you've found a trusted source.
What makes a delivery service for marijuana in NY trustworthy? The reputation they've built based on time efficiency and having the goods requested upon arrival. So how does a fellow weed smoker go about finding a trusted source, especially not being familiar with the city.
We here at Urban Aroma have a list of reputable delivery services in New York that we've discovered for ourselves are the most time efficient and always bring the goods they say they offer!
Conclusion
With the decriminalization of marijuana in NY, businesses have been around for quite some time. With that being said, weed entrepreneurs have gotten crafty with their business ventures. Just as anything else in New York, new ways to obtain weed are being produced overnight.
Always check our directory for the best ways to find weed in NYC.