Buying weed in NYC is all about finding trusted NY marijuana businesses, and in this article, we show you the best of what the Big Apple has to offer!
From finding the best New York marijuana shops to learning all about NY marijuana legalization, we've got you covered in this ultimate guide.
Click below to jump ahead in this article:
Best Weed NYC Brands | Best NYC Weed Delivery | Best Edibles NYC
How to Get Weed in NYC | Is Weed Legal in New York| NY Medical Marijuana |
NY Marijuana Legalization | New York Marijuana Risks
The Urban Aroma team has handpicked some of the most trusted NYC weed stores. If you're looking for where to buy weed in NY, take a look at our 2022 list of top New York dispensary recommendations for the best of NYC cannabis below so that you know how to find weed in New York safely.
NYC Weed Delivery & Best Weed in NYC (In-Person Favorites)
From NY weed delivery, weed trucks to edibles, we know all the best places to find weed in NYC. Make sure to check out our directory listing for premium NYC cannabis picks. With so many five-star reviews, see why New York residents are buzzing over these cannabis businesses.
Where to Buy Weed in New York City 2023:
Most Trusted NYC Marijuana Dispensary: LEGACY NYC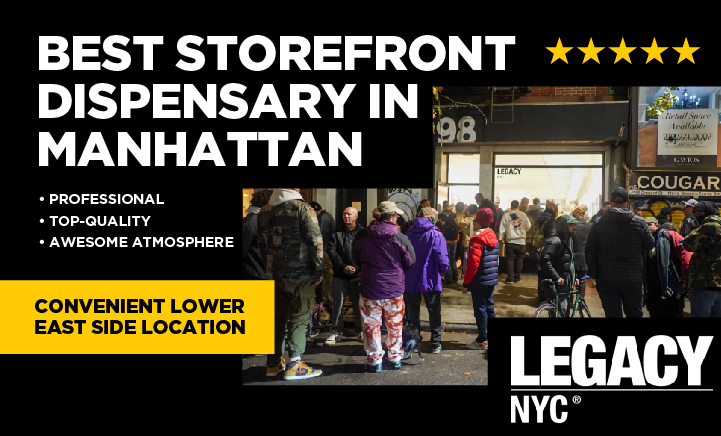 Legacy NYC is the rising star of recreational marijuana brands in NYC. Located on the lower east side of Manhattan, Legacy is not only a destination hot spot for recreational weed in NYC, but also doubles as a gallery space that highlights New York local artists They are one of the first cannabis storefronts in New York that you can visit and feature a wide array of cannabis strains from Wedding Cake, Slurricane, and they have an amazing selection of NYC edibles as well.
Call +1 (646) 892-4545 or visit their storefront at 98 Orchard Street, NY 10002. You must be 21 years or older to enter their storefront, be sure to tell them Urban Aroma sent you.
Best NYC Cannabis Dispensary Hands Down: Gifted BK
Gifted BK describes themselves as "A Cultural Destination." Conveniently located in Brooklyn, this is certainly a destination you'll look forward to visiting. Set in a unique gallery setting, we guarantee you've never been anywhere like this.
Most Trusted NYC Marijuana Delivery Store: King of New York Cannabis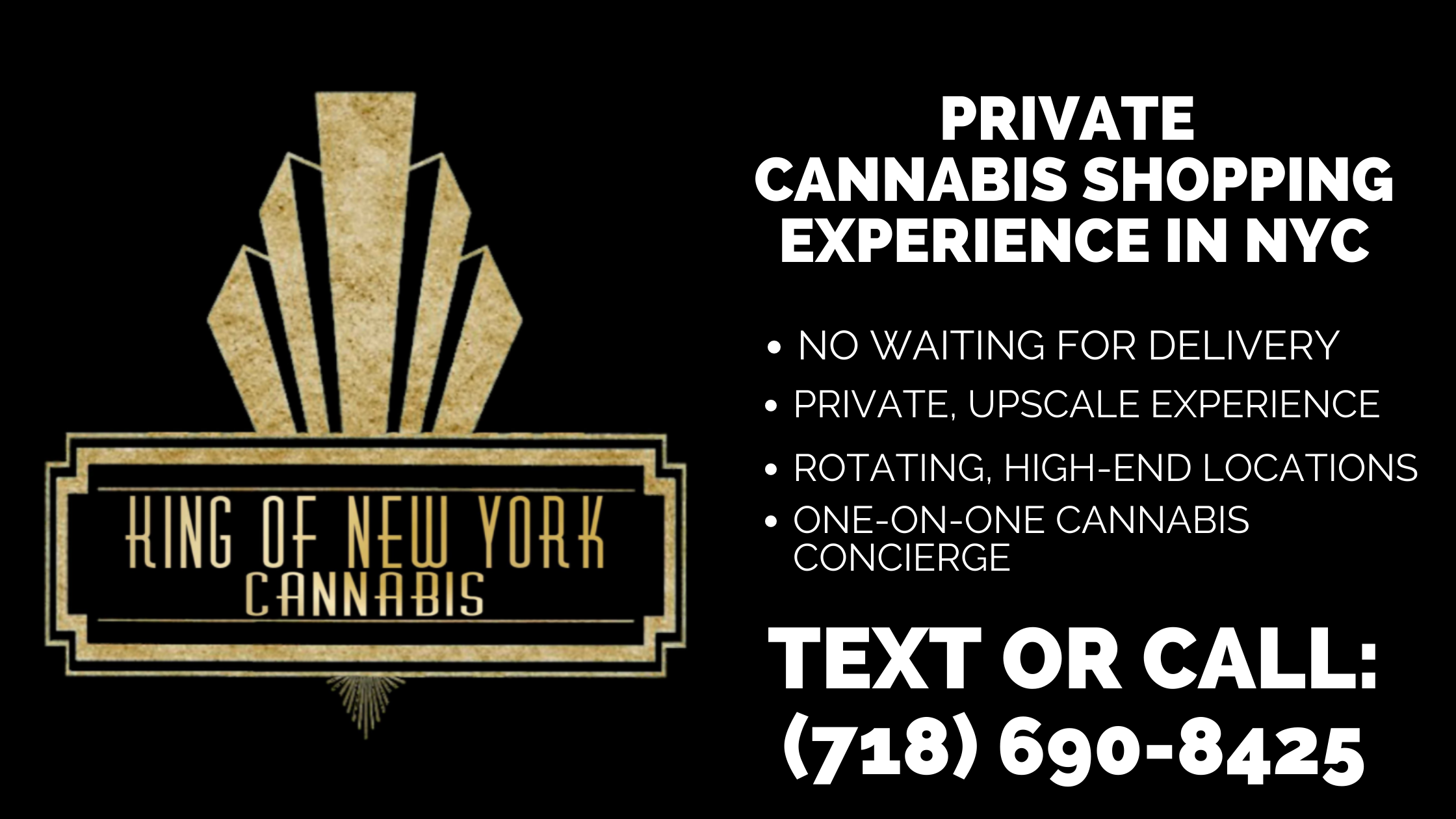 King of New York Cannabis offers an experience in NYC unlike any other. NYC weed delivery services can have you waiting up to a few hours before you receive your order but King of New York Cannabis provides an intimate rapid delivery service where you can select from our premier selection, edibles, and pre-roll options. You can think of us more as your personal NYC weed pop up. King of New York is open from 10 am - to 10 pm. Call or text 718-690-8425 to book an appointment.
Best Marijuana NYC Delivery with an Extensive Menu: Jumpin Jack Flash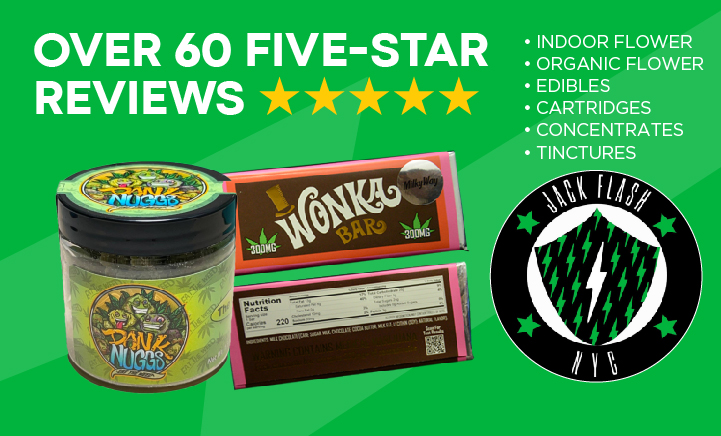 Jumpin Jack Flash is an NYC cannabis delivery staple. Offering an extensive menu including indoor flower, organic flower, edibles, cartridges, concentrates and tincture, Jumpin Jack Flash is sure to have the cannabis product you're looking for. NYC cannabis delivery is a tough game, and no one does it better than Jumpin Jack Flash — they even deliver to all five boroughs. Delivery orders are easy to place using their convenient website or through Telegram.
Best NYC Courier Cannabis Delivery: Skerp Supply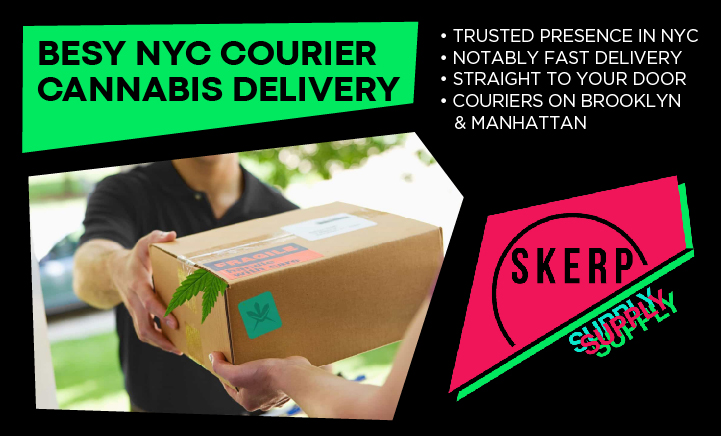 You can count on Skerp Supply for getting weed in NYC, delivered right to your door at top speed. Skerp Supply is a trusted courier cannabis brand serving Brooklyn and Manhattan, with a great reputation from a long-standing customer base — if you've ordered from Skerp, you already know that they deliver weed to your doorstep on the double. This NYC cannabis delivery from Skerp Supply, offers the convenience of ordering up cannabis from a great menu, and getting it to you discreetly and quickly. Contact Skerp to fulfill your cannabis dreams with ease at 609-592-5134.
Edibles NYC: Pizza and Weed with Pizza Pusha!
Pizza Pusha is a must for those looking for where to buy edibles in NYC! If you're in Woodhaven, Queens, or Jersey City, you can pick it up for yourself. Otherwise, you've got the amazing option for delivery. This unique weed delivery service bakes THC into their pizza pies. What? Best of both worlds!
Pizza Pusha has an easy process to order infused pies:
Step 1: Give your IG username

Step 2: Are you picking up or getting delivery?

Step 3: If pickup, choose your location, Woodhaven, Queens, or Jersey City

Step 4: If delivery, what's the address?

Step 5: What time would you like your order to be delivered or picked up?
How to Buy Weed in NYC Safely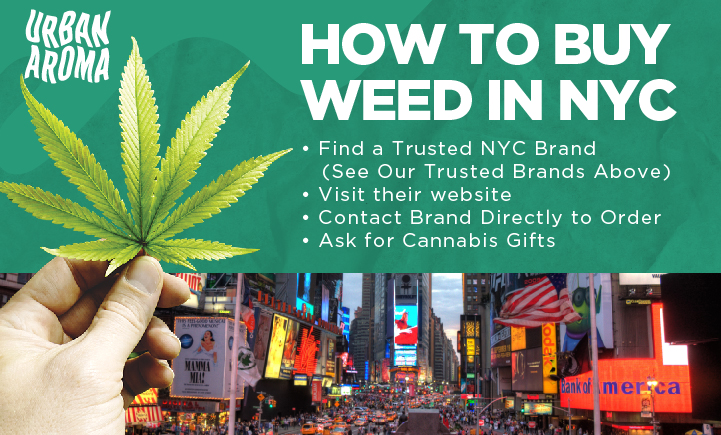 With all the current NYC weed laws still in the works, it's important to know how to buy weed in NYC safely. Luckily, if you choose a NYC dispensary delivery or any of our recommended weed stores in New York, these steps will allow you to obtain the best NYC weed.
So whether visiting a New York City dispensary or trying out a New York weed delivery service, buying weed in New York City is easier than you'd think.
How to Buy Weed NYC:
Find a Trusted NYC weed store

(see our list above

)

Visit their website or our directory listing and follow instructions on how to order (Or contact them to ask)

Refer to any products as gifts when purchasing.
***Always ask for cannabis gifting or donations when buying NY weed***
Being in a busy city where everyone is always on the move, it's critical to know how to buy weed in NY safely. Fortunately, wherever you choose to buy weed in NYC, this three-step process is all you'll need to get your hands on some dank weed in New York.
Is Weed Legal in New York 2023?

NY Marijuana Legalization -MRTA (Marijuana Regulation & Taxation Act)
Governor Andrew Cuomo signed the MRTA (Marijuana Regulation & Taxation Act), which legalized cannabis for adult users. The passing of this legislation also created an entirely new governing body known as the OCM (Office of Cannabis Management), which is governed by the Cannabis Control Board.
The OCM still needs to work through all the issues in their current draft of this law in order to allow adult use and sales to begin. So while there are no stores technically open for New York recreational marijuana sales, there are still major benefits to this law. Let's get into them.
NYC Weed Laws
Is weed legal in NYC? While you can't walk into a store and buy just yet, there are no penalties for public possession of up to three ounces of cannabis or 24 grams of marijuana concentrates. Let's take a look at just what is in store with New York weed laws:
The MRTA (S.1527/A.1617) legally regulates the use, production, sale, and other activities related to marijuana and marijuana products in New York.
The MRTA will allow resentencing and reclassification of previous convictions relating to marijuana offenses.
Law enforcement will still charge for serious offenses such as driving under the influence, providing marijuana to minors, and transporting it across state lines.
New York residents over 21 will be able to cultivate up to 6 marijuana plants in a secure setting not visible to the public.
Anyone with low-level possession or low marijuana sales charges will have that conviction vacated from their record.
How to Get Weed in NYC

The laws can be a bit confusing at times as NYC weed is legal, but you can't just head to any store and purchase pot yet.
Here at Urban Aroma, we connect you to reliable sources for how to get weed in New York City, but there are still various ways to order weed online in NYC. Let's explore a few of these options for buying pot in NYC.
We've discovered they are the most efficient, and always bring the goods they say they offer!
Where to Get Weed in New York City:
Weed Delivery In NYC
For residents and tourists, alike, delivery in NYC is a fan favorite. With all the hustle and bustle in the city, who doesn't appreciate the idea of having weed brought to them in the comfort of their own home?
Weed delivery in New York is very popular with tourists because it can be delivered to your hotel room upon request. The process is easy once you've found a trusted source.
What makes a delivery service for marijuana in NY trustworthy? The reputation they've built, based on efficiency and having the goods requested. So how does a weed smoker go about finding a trusted New York weed delivery source, especially not being familiar with the city?
Urban Aroma has a list of reputable delivery services for getting weed in NYC that we've discovered are the most efficient, and always bring the goods they say they offer!
Weed Trucks NYC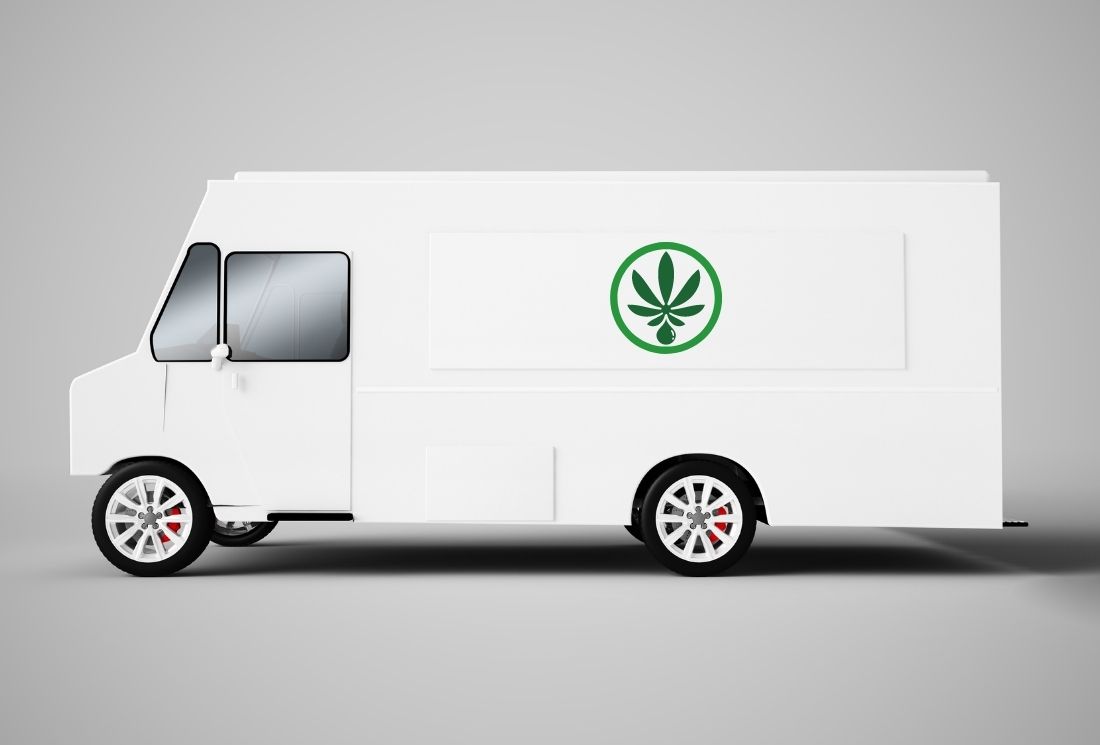 A surge of weed trucks in NYC has emerged. With legalization taking place, we might someday see new weed trucks that do sell legitimate NY edibles. In the meantime, take preventive measures and avoid scams from an NYC weed truck, by checking our directory listing first to see what customers had to say about weed trucks in NYC.
Weed Store NYC
Not to be confused with medical marijuana dispensaries in New York, weed shops in NYC are very different. Most often, they are moving locations hosted in secure and luxury buildings. The same goes for many areas in Los Angeles.
You get granted access and ride an elevator up into an excellent facility where you'll be greeted by budtenders, a menu, and can take a look yourself at all the amazing strains. It's a very great experience, but of course, there are sketchy ones as well, so we recommend you check our directory listing to see what actual NY residents had to say about their experience with cannabis shops in NYC or view our recommended list above.
Where to Get Weed in Brooklyn
If you're wondering where to get weed in Brooklyn, you'll be glad to know that there are reliable and safe options out there for you.
You won't have to worry about getting scammed or cheated for your money's worth. Whichever option you choose for buying weed in Brooklyn, there will be no shady business and no sketchy meet-ups with our listings, which are trusted sources.
Keep reading to find out where to get weed in Brooklyn safely.
Use a Brooklyn Weed Delivery Service
There are a number of ways to obtain Brooklyn weed, but a NYC dispensary delivery service is the most convenient and reliable option. Not only do you get to browse different types of Brooklyn marijuana from the comfort of your own home, but you have the convenience of not having to get on the subway or drive anywhere. A weed delivery Brooklyn service is a discreet, trusted option for those looking for the best NYC marijuana selections.
Visit a Brooklyn Dispensary
Finding a Brooklyn dispensary in your area is easy when you have options. There are many benefits to using dispensaries in Brooklyn, such as being able to see your cannabis products before you buy anything. This makes it easy to check quality to make sure you get the best Brooklyn weed. However, buying weed in Brooklyn requires a medical card to enter a dispensary and purchase marijuana. If you do not have a medical marijuana recommendation, your best bet is using a weed delivery Brooklyn service to find NYC marijuana.
Test Out Some of the Best Edibles in Brooklyn
Everyone loves a tasty THC infused treat, which is why it's worth checking out some of the best weed edibles in Brooklyn. Using the trusted Urban Aroma directory, you can select the storefront tailored to your cravings. Depending on your store of choice, you will be able to get edibles in person, or delivered right to your door! Whether you're shopping from a Brooklyn dispensary or a Brooklyn weed delivery service, you can be rest assured you will be able to get your hands on some mouthwatering Brooklyn edibles to enjoy.
How to Get Weed in Manhattan
Looking for the best weed in Manhattan? Luckily you've come to the right place.
Below are the top two ways to get your hands on some dank Manhattan marijuana without sacrificing quality. You'll be able to select your cannabis of choice and feel confident that you are receiving top-shelf weed in Manhattan.
How to buy weed in Manhattan with three simple options:
Find a Manhattan Weed Delivery Service
There are a couple of trustworthy storefront options that offer Manhattan weed delivery services. By using a weed delivery Manhattan service, you have the benefit of not having to leave the comfort of your home. A New York weed delivery service is easy and simple to use and allows you to shop for Manhattan weed with ease. When trying out an NYC dispensary delivery service, some businesses will require you to have a medical card, while others may not.
We advise you to always check directly with the vendor or store prior to purchasing. Remember, that the sale of recreational cannabis is not yet legal, so if a store claims to allow this, proceed at your own discretion.
Obtain Manhattan Marijuana From a Trusted Directory
We don't ever recommend randomly searching for NYC weed online, which is why using Urban Aroma's Trusted directory is a sure way to obtain the best Manhattan marijuana. Our cannabis directory provides you with multiple listing options so you can browse and shop the products of your choice. You can also see how verified a company is by looking through their reviews, product selections, and pictures.
Visit Local Dispensaries in Manhattan
The safest and most trusted option for finding Manhattan marijuana is by visiting an actual dispensary storefront. This will require you to have a valid medical marijuana card in order to enter and purchase weed in Manhattan.
The best thing about Manhattan dispensaries is that all cannabis products are lab-tested and checked. This not only ensures quality, but allows you to comfortably buy weed in Manhattan without thinking twice on whether or not it was worth the money. All lab results and information are provided for each strain and product you choose. Not to mention, you can browse all the products in person.
Is Recreational Weed Legal in New York?

The State of New York passed a bill in July 2021 allowing for the use and consumption of cannabis by adults over 21 in New York. However, the sale of recreational cannabis isn't yet allowed until regulations are finalized. The Office of Cannabis Management will set and determine the standards for operations and grant retail licenses. The new NYC weed law will create retail licenses that will allow dispensaries in New York to open and expand, where you will then be able to buy weed in NYC.
The Future of New York Recreational Weed - What to Expect
Despite the bill that passed earlier this year, legal cannabis is still a work in progress. Yes, the use and consumption of recreational weed is legal in New York, but legal sales of New York recreational weed most likely won't be seen until the year 2022, when regulations are officially in place. We hope to see a decrease in the number of marijuana-related arrests and a surge in new recreational storefronts, allowing those in need to gain easier access to New York cannabis.
How to Obtain New York Recreational Marijuana
As of now, there is no legal way to purchase or obtain New York recreational marijuana unless you have a medical card. You may smoke, possess, and consume NYC weed, but it's still unfortunately a big no, as far as sales are concerned. If you want to know where to buy weed in NY legally and do not want to visit a medical dispensary, you will most likely have to wait until next year once regulations are finalized, before New York recreational weed stores open up.
Is Recreational Marijuana Delivery in New York Safe?
We can't stress enough the fact that the sale of New York recreational weed is not allowed. That being said, there are recreational weed delivery services that will deliver to you without a medical card, but it is illegal. The loophole for buying weed in NYC is that they only allow you to buy NYC weed without exceeding the possession limit — but they are still risking arrest on their part so it is advised to use these services with caution and at your own discretion.
Medical weed delivery services in New York, however, are safe, reliable, and a great option for those looking for convenience. With everyone always on the move in the busy city, a weed delivery service is the perfect alternative for those looking to stay indoors. Buying weed in NYC is easy with an NYC dispensary delivery service.
When Will Recreational New York Dispensaries Open?
Although there is no established date for when the first New York recreational dispensary will open for adult-use sales, it is projected that sales of NYC recreational weed will start next year in 2022. Since retail licenses haven't been granted yet, the sale of New York recreational marijuana is not allowed. There is still much for lawmakers to go over and finalize before setting permanent regulations in place. It may take 18 months or longer before everything is fully legalized for buying weed in NYC.
New York Recreational Adult-Use Weed 2023 Update!
In March 2021, New York State made history by becoming one of the first states to legalize marijuana for recreational use. In addition, they went above and beyond to guarantee that people who had been adversely affected by past marijuana regulations would get first dibs on business opportunities in the new market. On Thursday, January 19 2022, New York's adult-use recreational market has officially launched and it's been met with overwhelming excitement and positivity from both regulators and customers. People lined up by the thousands to be a part of this historic moment, just in time to ring in the New Year. New York's new billion-dollar industry is off to a great start, and while there may be some challenges as we move forward into 2023, it's all part of the journey.
Many of the pledges made by lawmakers have been fulfilled, including making socioeconomic fairness a significant part of the state's adult-use program. This is a significant development that demonstrates New York's dedication to setting the standard for how states approach the legalization of marijuana from a legislative and regulatory perspective. The adult-use market in New York is primed to raise the bar for the sector with continuing hard work and devotion. Cheers to the promising future of marijuana legalization in New York!
Sticker Shock - The Price of Legalization
Customers were seen lining up around the block on the first day of Housing Works' grand opening and throughout busy hours throughout the rest of the week. However, some buyers have complained about the cost of the goods. On the first day, the carts were a bit too expensive, costing almost $100 for 1 gram carts. Although the flower goods on offer were reasonably priced at $40 to $60 per 3.5 grams, but the selection was small. Customers also complained about the high costs of pre-rolls ($18–$50) and edibles ($30–$35). Housing Works anticipates meeting its $1 million sales target in the first year despite these high prices. Prices may level out and more cheap solutions may become available as the adult-use industry matures. In the interim, consumers wanting for more economical solutions can still choose from the medical, gray market, and homegrown options.
What will happen to Grey Market?
According to state senator Jeremy Cooney, the State Assembly and Senate should have more authority to regulate the sector and that lawmakers will take steps to address illegal gray market operators.
The Office of Cannabis Management (OCM) made progress in 2022, according to Cooney, but she also pointed out that there were some communication problems, notably with relation to the schedule for the adult-use market's opening.
"I believe that the OCM has been fairly inconsistent on topics like timeframes and setting expectations," Cooney remarked. "I think that greater oversight from the State Assembly and Senate would foster a more amiable and cooperative partnership, ensuring that our objectives are realized. One thing is for certain, 2023 is looking to be an exiting year for New York as it continues to take big steps towards progress in the cannabis industry!
NY Medical Marijuana Everything You Need to Know

Currently, there are 12 New York city dispensaries, with more to come. With a medical marijuana card or prescription, New York residents can purchase NY medical marijuana.
The qualifications to obtain a New York medical marijuana card are as follows:


You must be at least 18 years of age.
You need to be a legal resident of New York with proof of residency.
You must be diagnosed with a "qualifying condition."
A practitioner must certify your qualifying condition (prescription).
So what is a qualifying condition when it comes to NY medical marijuana approval? Serious ailments such as ALS, cancer, epilepsy, HIV, Huntington's disease, multiple sclerosis, neuropathy, seizures, and Parkinson's disease all qualify you.
Also, if you are suffering from PTSD (post-traumatic stress disorder), severe or chronic pain, muscle spasm, opioid disorder, or bowel diseases, you also qualify.
For the rest of us that don't qualify for any of the above, if you have any chronic pain, you can obtain a medical marijuana card in New York City.
Things you will need for your Medical Marijuana card:
Practitioner certification form proving the qualifying condition
ID number from your New York State issued ID or driver's license.
Caregiver card (if applicable)
Fees (depending on the company
Growing Cannabis in NYC
Much like California and DC, New York is allowing residents to cultivate marijuana at home. While this is no easy task, if anyone does take the time to learn how to grow their cannabis, the results are excellent as far as saving time and money.
Adult New York residents will be able to grow 6 plants (with 3 in a vegetative state and 3 in flowers at any given time). If you have multiple adults in the house, the maximum is 12 plants per household, with 6 in vegetative and 6 in flowering.
This means that you can cycle off cannabis plants in NY to have more harvest per year. The vegetative state of marijuana is generally the first 4-8 weeks when the cannabis plant is just a regular plant. When you change the light cycle, you promote the cannabis plant to "fruit," known as flowering. At week 9, when you begin the "flowering," is when the buds and trichomes will begin to produce. So having three plants in vegetative and three plants in flower mean you will only harvest three cannabis plants at any given time in New York.
While the initial start-up of growing New York pot can be pretty expensive, if you learn to cultivate your own New York Marijuana, you will save quite a bit in the long run.
New York Marijuana Risk - What Not to Do!

There are plenty of NY weed businesses opening up. The NYC recreational weed industry is expected to climb rapidly over the next few years. There are many horror stories of NY residents thinking they are purchasing premium marijuana from weed shops in NYC, but instead are getting pure garbage.
How do you avoid being scammed with your hard-earned money?
One of the best ways is to only purchase from reputable sources, such as a New York marijuana directory like Urban Aroma. We vet and handpick only the best of what NYC weed has to offer.
When searching through a directory listing, you can see genuine reviews from what New York residents have said about their experience. If you had a poor shopping experience, you could post a review, and this helps warn other shoppers and regulate the NYC cannabis shops.
Pro-Tip: There has been a lot of buzz going on about the edible trucks and weed vans seen driving around the streets of New York. Do not be fooled. The products sold from an NYC weed truck do not contain any THC in the slightest, which is why it's important to know how to find weed in New York safely. You'll think you are about to get a good high from eating one of these edibles or weed lollipops only to find out it does nothing. If you spot a weed truck in NYC, don't be like a kid running to the ice cream truck. You'll be severely overcharged for a lollipop or brownie that will only disappoint you.
Final Thoughts on Weed NYC
With the legalization of marijuana in New York, it's an exciting time. Trust the businesses that have been around for some time when buying weed in NYC. That being said, weed entrepreneurs have gotten crafty with business ventures — and as with anything else in New York, new ways to obtain New York City marijuana are being produced overnight. So where can you buy weed in New York? Until the state-licensed businesses open up next year for NYC weed, we can rely on New York weed delivery services we know and love for some of the best New York pot! Knowing how to find weed in New York and how to buy weed in NYC safely doesn't have to be a hassle!
Always check our directory for the best ways to find NYC weed.