If you've ever been home wishing you could call on the weed delivery gods to bring you premium cannabis directly to your door but saying the prayer alone didn't work.
Don't get frustrated.
You're not alone.
With the passing of Initiative 71, the growth of the gifting economy in DC is on the rise. However, confusion is common when it comes to weed delivery in DC. We wanted to fill you in on all you need to know and get you in touch with the weed delivery gods, themselves.
How Does Weed Delivery In DC Work?

The question frequently asked by those new to weed delivery in DC is, "How does it work?". Some skeptics want to be sure they aren't being naive and calling on just anyone to deliver weed in DC.
No worries! We have compiled a list of reputable and trustworthy weed delivery services in DC that will bring you the highest quality weed in a timely manner. We wanted to simplify it for you. So, here it is:
Choose the

delivery service

that is right for you

Call or Text the number on the website

Provide a DC address where you want your flower delivered

Kindly wait
As with many laws, there are a few guidelines to follow. Be sure to keep in mind these key points before ordering:
You must be 21 years of age

Present ID when ordering weed for delivery (companies will require proof)

You must provide a DC address, this excludes Virginia and Maryland
How To Use Weed Delivery Service In DC
We have clarified that you must be 21 years of age and you must provide a DC address to get your DC weed delivery. We wanted to be a little more specific on how to use weed delivery in DC. To be frank, there's a number of routes taken for the gifting options.
In some cases, you may have the option of purchasing artwork with a side of weed. In other cases, you may have the choice of an article of clothing. Either way, you will get your DC weed delivered.
By going to our directory, you will find which website best fits your needs. Since we did the research for you, you can trust that you will be able to locate cannabis flower in D.C. and have it delivered to your door without having to wait all day.
How Much Weed Do You Get In DC Weed Delivery
Depending on which item you pick, based on the amount charged for the piece of artwork, or the hat, will determine the amount of weed you will be gifted.
For example, let's say you have chosen a t-shirt that has a $50 price tag. In this case, you will be getting $50 worth of weed, gifted.
Another example, say you purchase artwork for $150, the DC weed delivery will bring you $150 worth of weed, as a gift.
It seems like a pricey t-shirt, on the surface, but underneath it all, you're getting so much more!
How Much Does Weed Delivery Cost in DC?
The price of the item you purchase doesn't change when getting DC weed delivery.
Just to be clear, you are living luxuriously getting your weed delivered to you. With that said, most of these companies will charge a delivery fee. Just as any food delivery service would. But have faith that you will get your high-quality weed in a timely manner, using our directory.
Different companies have different fees. But luckily you can find out how much the fee is before you have weed delivered.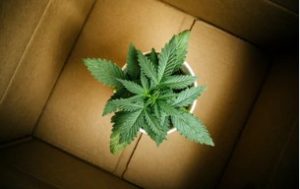 Conclusion
Getting your weed delivered is as simple as is ordering a pizza. Now that you are clear on how to go about buying DC weed legally, give it a go! Just be sure to keep in mind, you must have a DC address to deliver to and you must present identification.
Please leave us a comment and share your experience with getting premium flower delivered right to your door! We're eager to hear about your experience.