For most natives, finding weed in DC isn't an issue. However, for many tourists passing through our great nation's capital, questions still arise. The process of finding weed while in DC has been simplified in this article. We're here to provide all the answers for the ones visiting DC, looking for the goods.
Is Weed Legal in DC?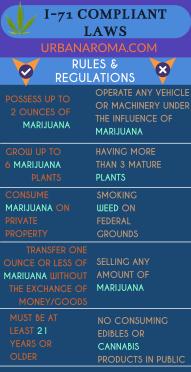 Chances are you have heard of Initiative 71 if you've been living in DC. But for the tourist that hasn't… Initiative 71, also known as I71, was passed in February 2015. Initiative 71 sole purpose was to allow for home cultivation to take place for personal use. Well, if you're a tourist looking to find weed, you're probably thinking "great so there's no way for me to find weed". Wrong! I71 gave birth to what is now known as the gifting economy. As with any law, there are ways in out and around I71 that allows for weed to be gifted with the purchase of an item of equal value. In short, weed is legal in DC and you can find it whether you live here or not thanks to Urban Aroma's directory.
How to Find Weed in DC
The first place to start for a tourist is using a trusted directory. Urban Aroma has done the homework for you and found the top places and ways to find weed in DC. When you're trying to find weed in a place you're visiting, you want to be sure you know what you're getting into. I think that's safe to say for anyone. That's why a directory is a perfect place to go. The untrustworthy companies have been weeded out for you! For those traveling, especially if you have never been to the city before, how to buy weed in DC doesn't have to be so intimidating. When using Urban Aroma's directory, you can rest assured that you are placing your trust in the right hands no matter which option of finding cannabis you choose. 3 Things to Remember for Staying I71 Compliant:
Must be 21 years of age or older
Weed is legal but cannot be purchased, only gifted
No more than 1 ounce can be transferred at a time
Option 1: DC Smoke Shops
For the tourist that is wanting to get out and enjoy the experience of gifting weed, choosing a smoke shop from the directory is the right option for you. The smoke shops listed in our directory have been confirmed they stay I71 compliant so that your safety is ensured. No need to worry about a run-in with the law while on your search to find flower in DC. Yes, weed is legal in DC but it cannot be sold, so when you're looking to find cannabis in DC, take note of the lingo. When you walk into an I71 compliant smoke shop, be prepared to ask for the "gifts", not the "pot". You'll have an easier time getting exactly what you want!
Option 2: DC Weed Delivery
DC weed delivery is perfect for the traveling tourist trying to find weed because they deliver anywhere in DC, even hotels! If you're the type that doesn't have the time or you're not into the hustle and bustle of the city, choose from the list of DC weed delivery services from our directory. As long as you are 21 years of age or older and you have a DC address to be delivered, you're good to go! Nothing is better than ordering weed in. 2 Things to Remember When Getting Weed Delivered:
Must be 21 years or older (be prepared to show ID)
Must have a DC address to deliver
Option 3: Pop up Events
A popular thing for most pot lovers in DC to do is pop-up weed events. There was a lot of hype going on about these events when recreational weed was first legalized in Washington DC. A couple of things to note here, going about getting weed this way is only recommended if the weed event is listed by Urban Aroma directory. It's important to stay safe and avoid getting a fine while attending these weed events. They've been known to get raided and busted for selling weed to minors. When choosing a weed event from the Urban Aroma directory, you can trust that you are selecting a reputable, I71 compliant event.
Where is it Legal to Smoke Weed in DC?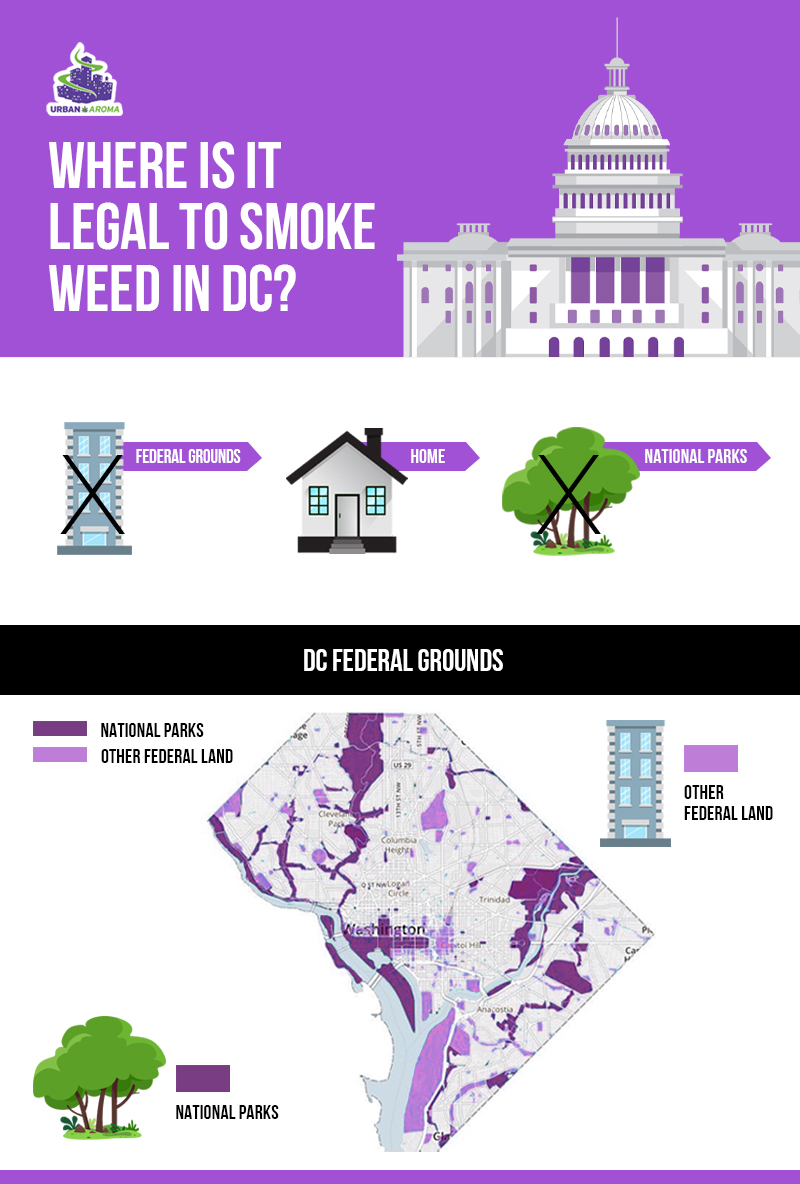 For any tourist trying to find marijuana in DC, there are some restrictions as to where you are allowed to smoke it once ya got it. Any federal ground is off-limits. Being the nation's capital, it should come as no surprise that federal property makes up 18% of the city. I71 is similarly modeled after alcohol open containers in public. As a tourist, be mindful of where you are when you decide to light up. And if you're looking to enjoy common touristy activities, like visit The White House, just be sure you smoke prior to and either walk or get an Uber there. Conclusion Marijuana is perfectly legal in the city. Just be sure to use a reputable directory, such as Urban Aroma, as you learn how to find weed in DC. With multiple options to obtain marijuana in DC, you'll be guided smoothly to the perfect choice for you!