Grindstone Universal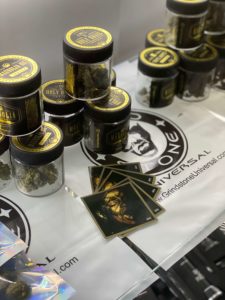 Quality and Innovation. One doesn't survive this long in the fashion industry without both. And this is exactly what
Grindstone Universal
has been doing for more than 22 years as they've blended the essence of street culture with h high-level creativity. Consistently professional and high class, the Grindstone store in Adams Morgan is a thing of beauty. With high ceilings and premium decor, you walk into this bright and comfortable, almost an art gallery-like store. Hang out, check out the urban runway fashion and/or art, buy some merchandise, or…
Peace In The Air
As you walk in you're greeted by the friendly staff who will welcome you to Grindstone Universal. They'll also mention if you're looking for "
Peace In The Air
" it's in the back. If you are, you'll be asked to show ID to prove you're over 21 and compliance with 
Initiative 71,
and asked how you found out about the place (so they can see which marketing is working). Once you're compliant, you can enter the digital music store.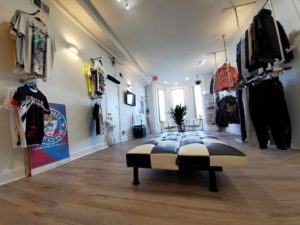 Peace in the Air allows you to listen to some music and purchase digital music tracks. In return for your digital track purchase (which they will email to you or give you a direct download link at the store), you'll be gifted some
premium flower
of your choosing. Similar to how Grindstone was built on the reputation of quality, that's what you'll find when you enter this room. With albums ranging from $50-80, you will have access to some of that product one might find difficult to acquire, including that fine cali blend. Once your album is picked they'll email it to you, give you your gift and you can be on your way. For a comfortable and safe experience, Grindstone/Peace In The Air is a great option. As of February 2020, Peace In The Air only offers premium flower as an option but they're working on providing CBD products and some other premium gifts in the near future. Follow their store and menu updates on Instagram
@peaceintheair.d
c or
 @grind_stone.