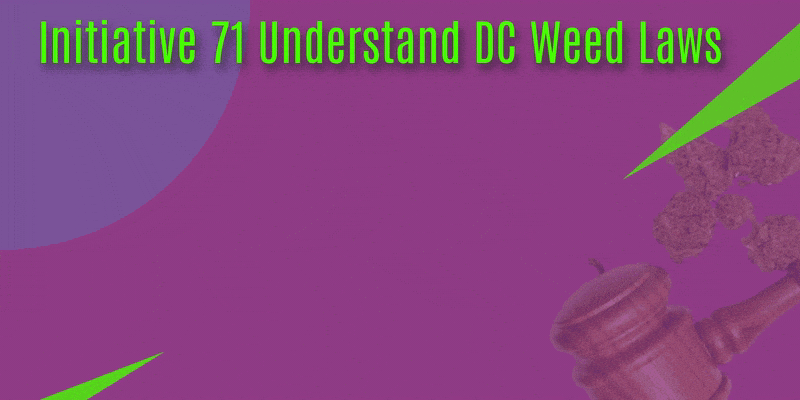 When it comes to getting a clear answer on "is weed legal in DC?", why are we only left with more questions?
The source of all this is in the details of the Initiative 71 Washington DC weed law.
If you want to purchase weed in DC legally and avoid a run in with the law, being knowledgeable about Initiative 71 is in your best interest! After reading this article, you will be an expert on Initiative 71, pot legalization in DC, and DC weed laws, so you can easily and legally obtain weed in DC.
Is Weed Legal in DC? - Prop 71 DC Explained
DC marijuana laws can seem confusing, with no black and white answers. There are, however, ways to maneuver through Initiative 71, which genius pot enthusiasts have come up with for weed legalization in Washington DC.
Let's have a close look at Initiative 71 and go over, in detail, what DC legal weed truly looks like.
DC Legalizes Weed Through Initiative 71
Initiative 59 was a ballot passed in 1998 that legalized medical marijuana. It granted those with serious or fatal diseases to use medical marijuana with a physician's recommendation.
Initiative 59 paved the way for Initiative 71. I71 officially became law on February 26, 2015. The vote was approved by 70.1% of voters. On the surface, the DC law seems like many other states' cannabis legalization. However, as we take an in-depth look at I71, we find it has many layers of nuance to know about before one can legally buy weed in DC. But that's not a problem with our guide on how to safely score weed in DC.
Recreational Marijuana Legalized in DC Through Loophole
With the passing of Initiative 71, access to legal weed has become plentiful. Weed being gifted with a purchase of an item of equal value has taken over the nation's capital, and made DC legal weed a real thing.
How does the I71 compliant gifting process work? By purchasing an item that retails for the same price as the specific amount of weed and strain you want, you are eligible for a marijuana gift. No purchase of pot takes place, and you are one happy (and safe) camper.
Additionally, there is no need to be concerned with getting busted by cops. Law enforcement officials have stated they will not waste their time or waste any taxpayer dollars on busting storefronts that gift weed.
Is Marijuana Legal in DC? Final Answer
Is marijuana legal in Washington DC? The short answer is, yes.
As long as you have found a reputable shop that stays I71 compliant (meaning they won't flat out sell you bud), then you are perfectly safe to obtain marijuna that's legal in DC. Initiative 71 has officially made marijuana legal in DC.
Use your best judgement when shopping around the gifting community in DC. You never want to subject yourself to an untrustworthy storefront that openly sells you marijuana. This is the perfect way to get yourself in trouble with DC marijuana laws.
The gifting community was built on just that: gifting. Not buying.
DC Marijuana Laws
Before venturing out into DC to get cannabis, be sure you have fully read and completely understand weed laws in DC. Initiative 71 very clearly states a set of rules to follow that will keep you and legal marijuana in DC protected.
Continue reading below to be sure you understand the DC cannabis laws:
DC Weed Laws Explained
DC marijuana laws are pretty easy to abide by. As long as you follow the list below, you won't have any issues.
Adults 21 or older can possess no more than two ounces (56g).

Users are allowed to grow up to six marijuana plants in DC, but only three can be in the flowering stage at any given time.

You can gift (not sell) up to one ounce to someone over 21 years old.

It is illegal to smoke in public.

Driving while high is prohibited and could result in a DUI.
When walking into any establishment that sells DC legal marijuana, never ask to buy weed. Instead, you want to refer to obtaining cannabis in a way that implies you will receive it as a gift.
Marijuana Laws DC - What Not to Do
Now that you are familiar with DC laws on weed, it's important that you also understand what NOT to do when getting marijuana in the city.
Do not ask to purchase weed from a marijuana storefront in DC.

Do not smoke on federal grounds. Federal grounds include government property such as public housing, national parks, military property, and other land controlled by the federal government.

Do not smoke in public.

Do not smoke in your car.

Do not smoke or take edibles and then drive. This can result in a DUI and can easily be avoided.
Initiative 71 Washington DC - How Many Plants Can I Grow?
When it comes to DC weed laws, DC wants you to remember one thing: Home grow; home use! This short sentence sums up the entire law.
Home cultivation is permitted of up to 3 mature plants for one adult over 21 years old or 6 mature plants in a household with multiple adults who are 21 and over. Up to one ounce of marijuana can be shared so long as there is no exchange of money, goods or services.
With the blessing of Initiative 71, home cultivation a.k.a. home grow; home use, is the legally intended way for you to acquire your weed. The hard part of growing your own weed is that it takes time, energy, patience, and expensive equipment that is not easily obtained.
There's frustration shared between recreational marijuana smokers when it comes to growing your own weed but being unable to sell it. It's just like the government allowing you to grow your own corn without being allowed to sell it or trade it… where's the fun in that?!
Thankfully, Initiative 71 offers a nice loophole in which you can gift up to one ounce of marijuana as long as no form of payment is taken. This sparked three very popular forms of purchasing weed legally in DC that help you stay I71 compliant.
Initiative 71 - Where To Buy I71 Compliant Marijuana
If you want to buy weed legally in DC while staying I71 compliant, no need to fret. We here at Urban Aroma did the research for you, and found the top I71 compliant establishments to buy weed for your next sesh.
Below you will find three brilliant ways to acquire weed legally in DC. Urban Aroma screened DC's most trusted Initiative 71 brands so you don't have to: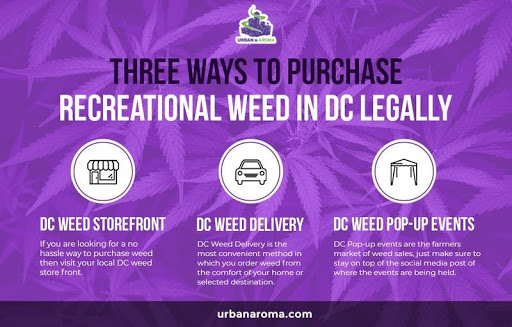 With any of the options found at Urban Aroma, you can be rest assured that you can buy your weed legally in DC, safely, and without hassle. Smoking weed has never been easier and more pleasurable!
Conclusion
Staying I71 compliant is important when visiting D.C. as a tourist. Now you're an Initiative 71 expert, and know exactly how to do things right when buying weed legally in DC.
Please let us know in the comment section about your experience using our directory! Share with us if you have other ideas on buying weed and staying I71 compliant!