Before we get to the details on how to buy weed in DC, we wanted to let you know our favorite spots in town. Gifted Curators - Adams Morgan's #1 storefront. A Street Art Gallery with a diverse selection of boutique exotic flowers, edibles, and pre-rolls along with some amazing digital art along with your purchase. Go check out the awesome art in their gallery and their selection in their safe 2nd-floor gallery. Peace in the Air - Set inside Adams Morgan clothing staple Grindstone Universal, you'll get some amazing flowers, edibles, and pre-rolls along with some digital music with your purchase.Street Lawyer Services - If you're looking for a spot on H street, this is your place. Fast, fun, and a great selection of all your favorites.VIP Clientele - One of the OG's in I-71, they bring to you some of the better products you'll get in DCAre you a fellow weed connoisseur living in DC or just passing through? If so, you may find scoring weed isn't as straightforward as you thought. You'll need to learn how to find weed in D.C. safely, then you need to know how to buy it legally. Medical marijuana was legalized in 2010, but Washington DC only legalized recreational marijuana in 2015, and nearly five later people are still confused about just how this law really works. Even though you'll understand what you need to know by the time you finish here, you may still end up asking yourself the question again - Is it legal to get weed in Washington DC with so many hoops to jump through? If you're in the nation's capital your first time and you want to blaze while you're here, consider this article a guide to navigate the grey market gift system of buying pot in DC. It's actually easy to do once you know the ropes as most DC residents do!
How To Buy Weed In DC
Retail sales of cannabis in Washington DC aren't legally allowed, but there are ways to acquire it that don't involve purchasing it directly. One of the best ways to get weed in DC is to do business with an Initiative 71 compliant business.
What Is Initiative 71?
Cannabis laws have recently changed in DC for the better. The passing of Initiative 71 in 2014 made it legal under DC for persons 21 years old or older to possess up to two ounces or less of marijuana.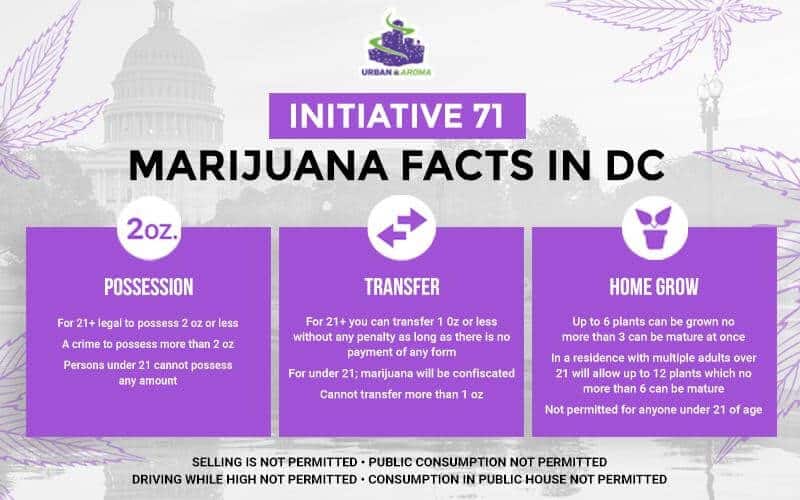 I-71 also allows adults who are 21 or older to give — as in, for free—up to one ounce of cannabis to another adult who is at least 21. Consumption may take place only in private at your home – no your car does not count. No one may use, possess, exchange, or cultivate marijuana on federal property, of which there is quite a bit in DC. You always want to make sure you're not on government property when you're lighting up!
How Old Do You Have To Be To Buy Weed In DC?
According to I-71, you can't actually buy weed at any age in DC, but you do have to be at least 21 to possess it. When you purchase products from a gifting service, they will want to make sure that you are of legal age to possess your gift. You will be asked to present a valid form of government-issued identification with any of the above options for buying weed in DC. Make sure you have proper identification on you when you get your delivery or when you go into a store. Now you know the answer to, "Is weed legal in DC?" is yes – but with a lot of nuances. If you're looking for delivery services, pop-up events, or medical marijuana dispensaries to find weed in dc, search our trusted DC weed directory. We have all the information you need to find your new favorite vendor and get weed in DC.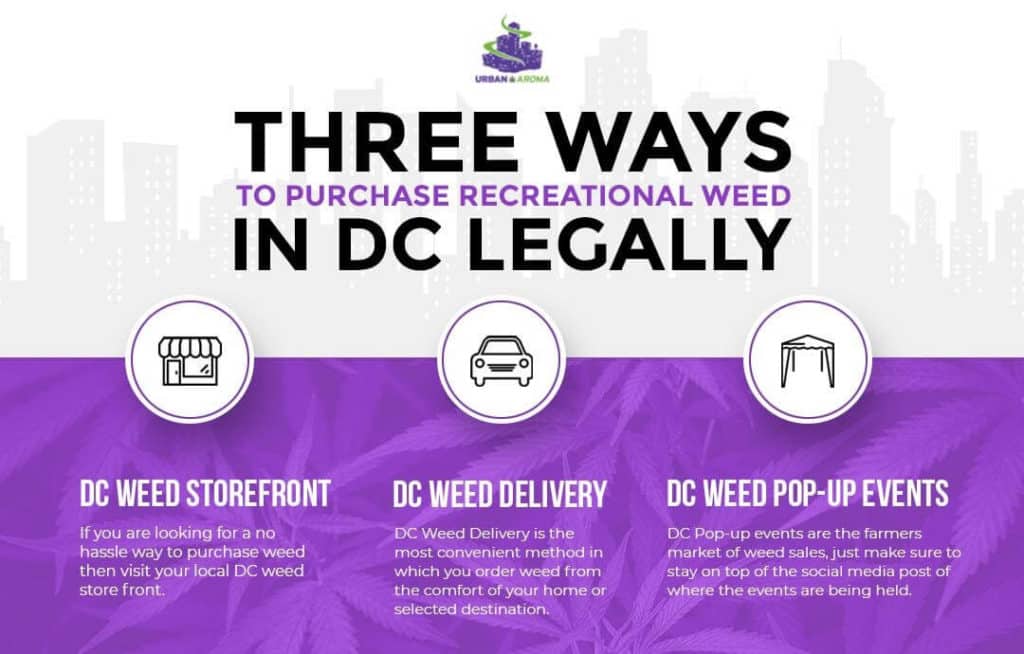 How To Find DC Weed Shops
One option for how to buy weed legally in DC is to take the direct route. There are plenty of weed stores in DC that sell a variety of regular items. Of course, you'll end up paying a higher amount of money for a hat or t-shirt. However, as far as the law is concerned, you did not purchase cannabis, and this is staying compliant with I71. You don't have to have an appointment with these locations like you may have to with other services, so it's pretty easy to get in, make your purchase, and get out. But if you want to hang out and take a good look around before buying anything, these locations are generally open during normal business hours or more, so there's no rush. When you go to a storefront, you must ask about the products that are for sale; remember, the weed is not what you are purchasing. Whether it's a pair of sunglasses, a t-shirt, or a piece of artwork, this is what you are purchasing and the weed is a free gift that you get when you make your purchase. Determine the number of free gifts you want to receive, then match that up to the product that equals out the same price. Urban Aroma is DC's #1 trusted directory, listing only the safest, most trustworthy, I71 compliant DC weed stores. Check out our DC weed dispensary directory to find your daily high.
How Do DC Weed Delivery Service Work?
Not big on getting out to buy your pot? Another option is to order weed directly to your door or the location of your choice! To do this, simply find a DC weed delivery service online. Not all delivery services are up to par so we did the leg work for you and found the DC weed delivery. Pick your product and wait for the friendly staff to show up with your item and cannabis gift. You will be screened before any delivery is completed. Most delivery services will require that you send them a picture of your photo ID; some will even require that you send a picture of yourself with the ID just to prove that you are who you say you are. They will also instruct you on where they will and will not deliver in the DC area. Be aware that some delivery fees may be more than others and some may take longer to deliver depending on where you are. Keep in mind, DC weed delivery is a relatively new concept so delivery times may vary, but your patience will pay off in the end.
What Are Pop-Up Events In DC?
What does buying marijuana from a DC pop-up event look like? Picture a farmer's market or trade show…minus the fruits and veggies, substituted with cannabis! This option for buying pot in DC is certainly an experience but may lead to a run-in with the law if you don't wisely select the DC pop-up events. Many have been caught distributing weed to minors which is not compliant with I71.
What Are Pick-Ups?
If you don't want to go to a store to pick anything up, you can make an appointment with a pickup service at a location that varies. It may be at a hotel, someone's home, or even a vacation rental like Airbnb or VRBO.
What Are Cannabis Meet-Ups?
A cannabis meet-up is a meet that takes place in a public place such as near a coffee shop or another establishment where you can get what you need. Functionally, they can be the same as that curbside pickup that some gifting stores offer.
Where Can I Smoke Weed In DC?
Even though weed is legal to possess in Washington DC, you can't just smoke it anywhere. There are restrictions in place that will not allow you to smoke weed in public, so if you want to smoke anywhere other than your home, you'll need to find other private spaces to do it in. Smoking in public carries a not-so-hefty $25 fine, but hey, who wants trouble with the law when you can avoid it? You can smoke in private spaces such as your home, but you may not smoke in private establishments that are open to the public, such as bars, stores, or any other similar establishment. You may not smoke on federal property, military property, or at any of the national parks or monuments in the DC area. Federal law enforcement will enforce the law if you are caught doing it. Be aware that the penalty for smoking in public can be a maximum of a $500 fine or 60 days in jail. Smoking weed in your vehicle is also illegal and your first offense will be a misdemeanor DUI that could carry a max penalty of $1000 or 6 months in jail.
How To Find A Marijuana Lounge
Cannabis lounges are hot on the heels of coffee shops in terms of popularity where weed has been legalized. In Washington DC, you can't buy weed in the lounges themselves, but they are typically not far from an Initiative 71 compliant gifting service.
How To Find Marijuana Friendly Accommodations
Places like VRBO and Airbnb have filters that let you search for properties that will allow you to smoke while you're staring at them. 420-friendly properties are common in places where weed is legalized for recreational use. Some of these properties will even give you a free gift!
Where To Get Medical Marijuana In DC
Medical marijuana has been legal in Washington DC since 2010 and recognizes medical cards from the following states:
Alaska

Arizona

Arkansas

California

Colorado

Connecticut

Delaware

Florida

Hawaii

Illinois

Maine

Maryland

Massachusetts

Michigan

Minnesota

Missouri

Montana

Nevada

New Hampshire

New Jersey

New Mexico

New York

North Dakota

Ohio

Oklahoma

Oregon

Pennsylvania

Puerto Rico

Rhode Island

Utah

Vermont

Virginia

Washington
To make purchases at legal marijuana dispensaries in Washington DC, you will need to bring your medical marijuana card that was issued by your state, your photo ID issued by the same state, and for first-time visitors, you'll need to bring the information to contact your physician that recommended that you be eligible for medical marijuana. You will not be given access to medical dispensaries without the above documents and they must be up to date. You may purchase up to 4 ounces within a 30 day period and may not purchase more than this in a 30 day period until one of your purchases during the month exceeds 30 days old. The most you are allowed to give away to another person is one ounce, but you may not be paid for it in any way, including cash, goods, or services.
How To Grow Your Own Weed In DC
Even though retail sales of cannabis are banned, you can still grow a small number of plants for your own personal usage. If you are over 21, you may grow up to 6 plants in your residence as long as you have no more than half of those flowering at any given time. If you don't live alone, you may have up to 12 plants to account for the presence of an additional adult. You may not grow cannabis if your home is within 1000 feet of a public building, daycare center, swimming pool, youth activity centers, public housing, libraries, or arcades. You may also not grow in a house where anyone is under the age of 21.
Conclusion
The DC community is adjusting beautifully with the Initiative 71 law and blossoming new ways to get pot in DC. Let us know all about your experience in the comment section and if you have another method to purchase weed legally in DC that we have not mentioned please share below!