The Sour Diesel cannabis strain, also known as Sour D, is an all-star favorite in the world of weed.
Even if you are a beginner with weed, or you are new to the Empire State, you have probably heard all about the infamous NYC Diesel strain. If you're not trying to stick out like a sore thumb, you'll want to know more NYC Diesel strain info.
NYSD (New York Sour Diesel) is a legendary sativa-dominant strain, named after its pungent, diesel-like aroma. It delivers energizing, dreamy, uplifting effects.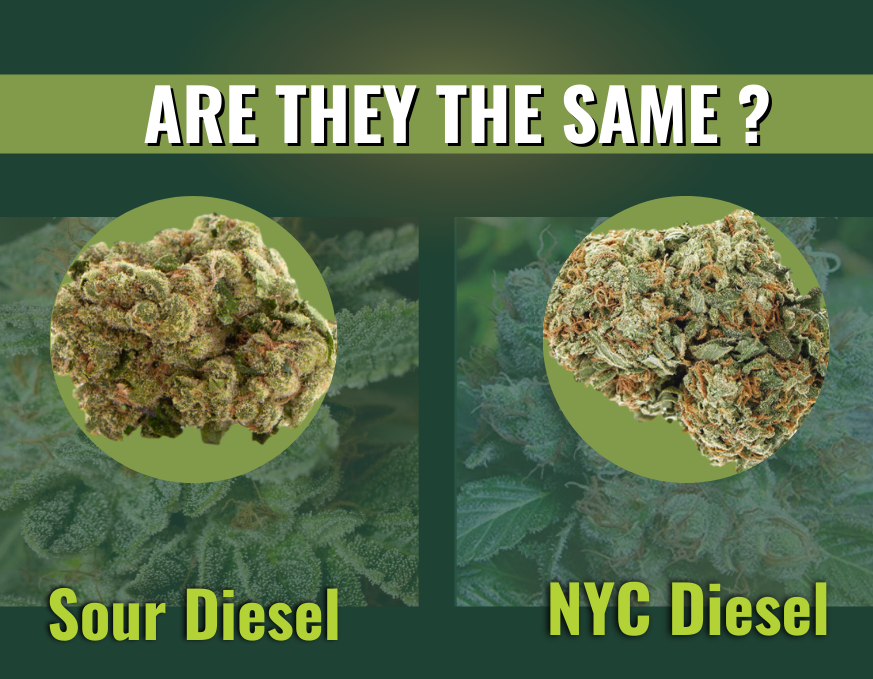 A go-to daytime strain, Sour Diesel is a potent top choice for medical cannabis patients who want to try flower from the NYC Diesel strain family, which can offer relief from stress, pain and depression.
Read more to learn about the many names and monikers of NY Sour Diesel. Learn all about the effects, taste, and smell of the NYC Diesel strain.
Check out some of the top brands in NYC, verified by Urban Aroma to have some of the best Sour D in town.
NYSD Strain Info
The New York Diesel strain family has smokers wanting to learn more NYSD strain info, including all its monikers, and where to find this legendary flower.
But what are the differences between NYC Diesel and Sour Diesel?
NYC Diesel vs Sour Diesel
If you are looking for a difference in NYC Diesel vs Sour Diesel, you won't find many.
Sour Diesel and the classic NYC Diesel are essentially the same strain. Sour Diesel is just one of the many kinds of NYC Diesel.
Think of Sour Diesel as a parent to NYC Diesel. Sour Diesel is a creation of Amsterdam-based seed bank Soma Seeds, and was first bred by the geneticist Soma in 1997. After the New York City terrorist attacks on Sept. 11, 2001, Soma decided to name the strain NYC Diesel to pay homage to his childhood home.
At many dispensaries, especially in California and Colorado, NYC Diesel is the same thing as Sour Diesel, and the two are interchangeable.
Find Sour Diesel and more NYC Diesel strains at any of the dispensaries here.

You can also get your NYSD delivered by choosing any of our highly trusted NYC cannabis delivery services.
What does NYC Sour Diesel Smell Like?
NYC Sour Diesel has a distinct, pungent aroma that emanates from its fluffy buds.
Once you get a whiff of the gasoline-like smell, you'll understand the name Sour D perfectly.
NYSD has a potent, lingering aroma that sometimes can seep through the weed jar. As soon as you open the container, the air will fill with a skunky, diesel fuel mixture of smells.
What does New York Sour Diesel Taste Like?
The flavor of Sour D is super earthy, with strong gassy notes and hints of citrus.
The New York Sour Diesel taste will be heavily influenced by the strain's skunky nature. It'll often be hard to notice the citrus and fruity flavors because of the strong skunk mask.
What does NYSD Look Like?
When you break up the bud, you'll notice a lemony top note of terpenes, along with a whiff of pine.
Sour Diesel buds are generally on the pale end of the green spectrum, sometimes with yellow undertones, and fine red hairs.
As with most sativa-dominant strains, Sour Diesel buds are usually medium-sized.
While Sour Diesel may not always be as heavily frosted with trichomes as other strains, you should look for plenty of resin heads on your flower.
NYC Sour Diesel Effects
NYC Sour Diesel effects are fast-hitting, and the high levels of THC can perk you up and make your day a little brighter, with just a little going a long way.
NYSD is a great daytime strain that can energize and uplift you, often with a creative burst.
The creativity a Sour Diesel high often brings makes it beloved by artists like Run the Jewels, Action Bronson, Redman, and Broad City's Ilana Glazer, who finds some in her hair in this awesome clip.
NYC Sour Diesel's headiness is an enjoyable experience that goes well with being social, or just making your day a little more fun.
With its traditionally high levels of THC, Sour D effects can sometimes lead to anxiety and paranoia if over-consumed. New users should start low and go slow with this potent strain.
Is Sour Diesel Indica or Sativa?
Of course, many will want to know the answer to the question, "is Sour Diesel indica or sativa?"
Diesel is a sativa-dominant hybrid, with 90% sativa and 10% indica genetics.
Because NY Sour Diesel leans so far to the sativa side, many Diesels are labeled as straight up sativa.
You should not miss a beat if a homie asks you "What kind of weed is Sour Diesel?"
NYC Sour Diesel THC Percentage
If you want to be an expert on the NYC Sour Diesel strain, you'll want to remember how much THC is in Sour Diesel.
Sour Diesel THC content levels tend to be high, ranging anywhere from 18-26%.
If any goofy ever asks you "Is Sour Diesel good weed?" you'll be able to tell them without a doubt that NYC Sour Diesel is the supreme king of fire strains in New York.
New York Diesel Strain Medical Benefits
Sour Diesel's fast-acting, mood-boosting effects make it an excellent choice for those seeking relief from general stress, anxiety, depression and PTSD.
Its energizing effects can also be useful for patients suffering from chronic fatigue. Some users also report that Sour D is great to combat nausea and stimulate the appetite. Sour Diesel is a legendary strain for good reason.
Pick up some Sour Diesel for yourself next time you're at the dispensary!
The Origins of the NYCD Strain
The legend of Sour Diesel begins in New York City in the 1990s, with a grower known only as "AJ." Its genetic history is murky, but many growers believe its lineage is a cross between Chemdawg 91 and Super Skunk.
The East Coast favorite became highly sought after during the early '90s, and is one of the best-known cannabis strains in the world, making it to Number 3 in High Times' "Greatest Strains of All Time."
For the full story behind how Sour Diesel came to be, watch this interview with AJ, the grower who calls himself the "servant and keeper" of the cultivar.
NYC Diesel Strain Checklist
The NYC Diesel strain is an all-time classic with many famous names that you've probably heard.
You may have wondered "What's the difference between NYC Diesel vs Sour Diesel?" Very good question. They are essentially the same!
Sour Diesel is a type of New York Diesel that you will come across in dispensaries and delivery services all across the North. It is hard to find a store without it.
NYSD is so pungent and full of crystals that images of Sour Diesel are sure to stick in your mind and have you spreading the word in no time.
The NYC Sour Diesel THC percentage is always on point to get you very lifted, and give you the Sour Diesel Effects that keep people coming back.
Make sure to check out the highest quality NYC Diesel Strains from our trusted favorite dispensaries of New York.