Most people that smoke weed, whether for medicinal purposes or simply to relax, have a stash box they keep their weed and supplies in. Sometimes it takes a cannabis user a long while to gather all of the accessories they want to make their smoking or vaping experience perfect, and create their ideal stash box. It's a very personal thing for marijuana users! Here are some tips on building a stash box that will fit your specific needs.
What Can You Use For A Stash Box?
You can use just about anything as a stash box. A tin that cookies, cakes, or candies come in is a good choice. It will be mostly waterproof and can be good for traveling or home use. Another option is an old music box or jewelry box, as long as it's not made from cedar. Many jewelry boxes have terrific little compartments for stashing things in. If you're handy with woodworking, build yourself a custom-made stash box. You can also buy a ready-made stash box from a store or online (see our list below). Some people have a whole collection of stash boxes. You definitely want your stash box to be sturdy, especially if you travel with your stash, or take it camping. Consider the size when choosing your storage box. You don't want it overly large, but you don't want it so small that you can't easily sort and find all of your supplies. Another thing to consider is a lock. You may want to choose a wooden or metal box that can lock. A locked box is great at home, and you certainly want a lock if you travel with it. It might not prevent someone from walking off with your box, but a lock can ensure pets and children can't break into your stash.
Let Your Stash Box Make A Statement
Some people take their cannabis use very seriously. If you're someone that likes to show off your latest paraphernalia, then you want a stash box that's worthy of showing off when you have friends over. If you choose a box made of wood, you want it to have a nice finish of some kind, perhaps hand-painted with some specific design or scene you like. A metal box could be silver or black, or any color in the rainbow. You definitely want the box to have specialized compartments that fit your gear neatly.
What To Put In A Stash Box
These days, there are many different options when it comes to the ways that people consume cannabis. A rolling tray, a pack of papers and your weed used to be all you needed — or so many people thought. Of course, some folks might have a huge bong to pull out when company came over. They're great for parties, but they don't fit in a stash box. However, there are smaller versions of those types of pipes today, and even more options when it comes to vaping. Below is a list of all of the necessities you might want in your box: Cannabis: The essential purpose of a stash box is to have a place to keep your weed: buds, concentrates, edibles, whatever you like. Keeping your items stored in separate containers is important. Jars: Using glass or ceramic jars is a great way to keep each one of your weed samples safe and at the right temp and humidity. Rolling Papers: Many people use rolling papers. Even if you vape and don't use papers, it's always nice to have some on hand in case someone else still enjoys rolling a big fat joint. Lighter: Always have a bunch of lighters on hand. No white lighters though — they're cursed! Hemp Wick: A fantastic addition to your smoking accessories, hemp wick is a length of hemp twine that's coated in beeswax, and keeps the butane of your lighter away from your weed. You light it up with a match or lighter, use it to spark your bowl as needed, then blow or shake it out when done. Tools For Poking: A poking tool can be many different things. A nut pick works well to unstop a pipe or tamp down your weed. A pair of tweezers can also come in handy sometimes. A small penknife is handy for cleaning a pipe. Grinder: It is very important to have a grinder in your stash box. Buds need to be broken up and ground to the correct consistency to use in smoking or vape pipes. Even when rolling a joint, you want your weed to be in small pieces so it burns uniformly. Vape Pen: While you may still want a large vaping device like the Volcano, a vape pen is more discreet, and perfect for solo use. Eye Drops: Even if you aren't worried about someone seeing your red eyes, keep eye drops on hand to provide some soothing relief. Cannabis smoke can make your eyes feel dry and irritated. Ashtray: An excellent expression of your personal style. Choose something fun to catch your ashes in! Even if you vape, you'll want something to knock bits and pieces of vaped bud into. Clean Cloth: Keeping a nice soft cloth in your box will allow you to keep your things wiped down and help to keep your box clean. Dry cloths are best. You can always dampen it if needed and replace it with a clean, dry one when finished. Mouth Spray or Throat Lozenges: Weed can cause cottonmouth. A small bottle of breath spray or throat lozenges can help relieve the feeling. Now that you know what items you need to have for your stash box, check out this list of some very nice boxes available for purchase!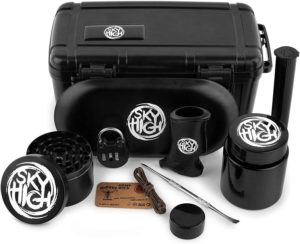 This is a very nice box that sells for $39.99! It comes in sleek black ABS plastic that is smell-proof, resists scratches, and has excellent high-low temperature performance. It has an easy grip handle for easy carrying, a 3-digit combination lock, and padded compartments. This box comes equipped with a silicone wax jar, a stainless steel double-edged pick, tray, smell-proof storage tube, hemp wick, and a hemp lighter holder. It's a perfect choice for home use or travel. It will make a great gift for anyone that uses cannabis for recreational or medicinal purposes.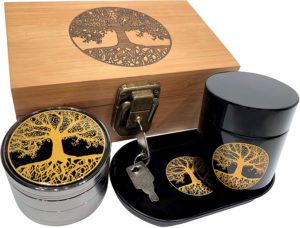 If you prefer a wooden stash box, this one sells for $42.95. It is made from bamboo and has a beautiful Tree of Life design on the box as well as on the accessories. The Tree of Life design symbolizes strength, growth, and a connection to all living things. It comes with a key and lock for security and safety. It has a grinder, black storage jar, and a small rolling tray. These accessories fit snugly into a cushioned liner.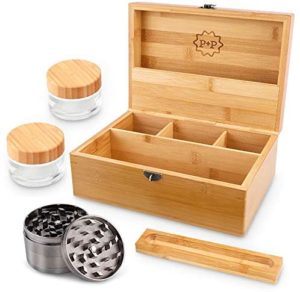 If you like the idea of a large stash box that is handmade, then this one sells for $47.99 and may fit your needs perfectly! This is a premium bamboo box with a smooth, natural finish. It's large enough to store all of your necessities. It comes with a latch that will allow you to use whatever lock you wish to keep your stash secure. Accessories include a grinder, two stash jars, and a rolling tray. What makes this box unique is the dividers are adjustable so it can easily fit the accessories you wish to store!. You have the option to create 1, 2, 3, or 4 separate compartments. The lid also has a pocket for additional storage space.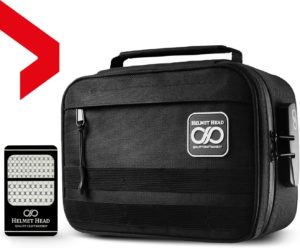 Selling for $43.99, this case has a patent pending. It offers excellent odor-proof control., and has been deemed 100% smell-proof! Keep the valuables inside your stash bag safe and secure with lockable storage. It keeps herb, medications, and other accessories safe from children and pets. This bag is water repellent to make sure the contents stay dry. The modular case keeps your stuff incredibly organized the way you want it to be. Helmet Head is a trusted company when it comes to smell-proof storage. This is another example of a perfect gift for anyone that uses cannabis for medicinal or recreational purposes!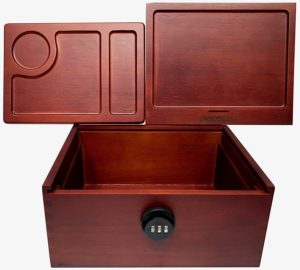 If you are looking for a wooden box that is elegantly stylish, this jewel sells for $59.95. This box is made with premium maple and is accented with a cherry wood finish. There will be no need to hide this gorgeous box, because it will add an element of décor to any room! All of the wood crafting in this box is obtained from eco-friendly and sustainable sources. The vintage style has dovetail corners and a sliding lid. This stash box will last for a lifetime! The combination lock will ensure you keep children, pets, roommates, or others from accessing your stash. It comes with two rolling trays. It can be organized as you see fit, and will easily store stand up jars and any other items you wish to include in your dream stash box.