This hybrid by DNA Genetics has two superstar parents: Train Wreck x OG Kush. It's a 60% indica 40% sativa, with chunky buds full of resin that shines like diamonds and smells earthy and very sweet — almost syrupy. First impression: she smokes smoothly and burns super evenly. I'm really into these cellulose papers right now, and I love seeing super frosty strains through them.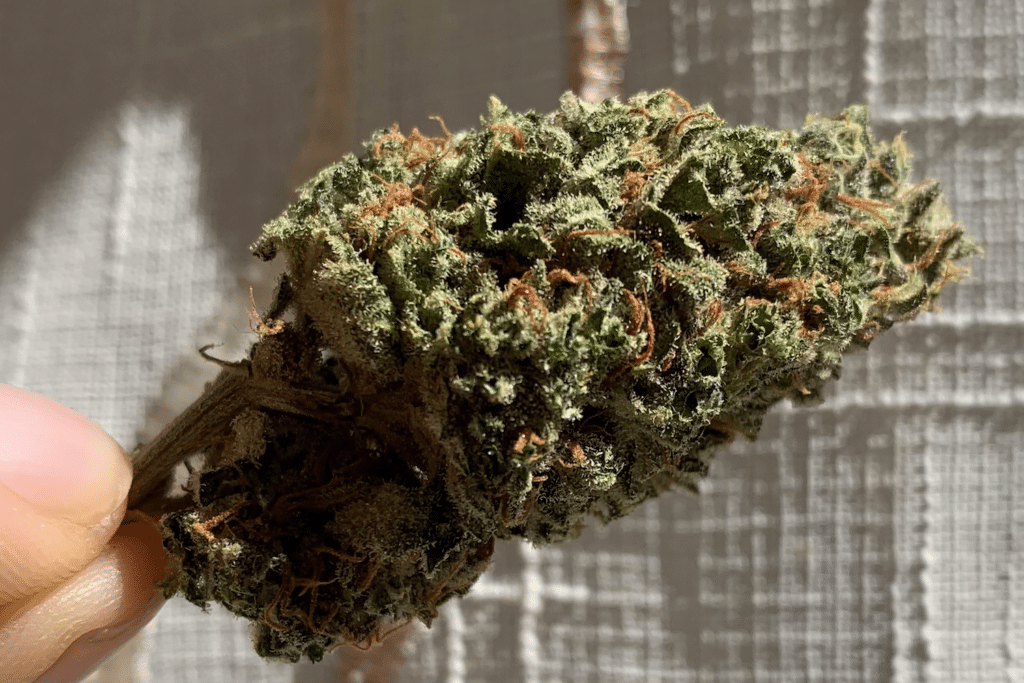 Kandy Kush won 1st place out of 140 competitors at the Colorado Cannabis Crown 2010 for best medical cannabis. Touted for its stress-relieving qualities, I could see why right away after one hit. It crept up on me, but suddenly I wasfully engulfed in an overwhelming body buzz.My face felt really warm and tingly. I rolled my shoulders back as I exhaled, and could feel my worries melting away.
Day Into Night
Often this feeling quickly leads me straight to the sofa but I was really buzzing so I went for a walk.It was a sunny day and I sat outside for a long time, watching the world go by. Not a hint of paranoia. I felt great. Euphoric. The high stuck around for a long time, but I was ready to roll up again when I got back home — and roll up I did.After a massive feast, I spent the rest of the night puffing away in my living room feeling soothed and serene, but awake enough that I actually made it through an entire movie!
Flower Power
If you want to understand the power of a hybrid, Kandy Kush is it: invigorating and relaxing. This flower could be a great start to your day, or the perfect company for melting into your couch. The kind of weed you can smoke from dawn til dusk — she's my kinda gal. Rating: 9.8. I'm only docking a couple points because this bud brought on such a massive case of the munchies that I went through a week's worth of groceries in one afternoon.