Smoking in NYC - Full 2021 Guide For Tourists & Locals
With recreational weed now legalized in New York, many residents and visitors of the state may be wondering about the rules regarding smoking in NYC. Like most weed consumers, you want to enjoy your smoke in peace, and knowing where you can smoke in NYC is essential to avoid trouble. In this article, we'll take a closer look at the legality of smoking weed in NYC, where you can (and can't) smoke in NYC, and some of the best places to smoke weed in NYC.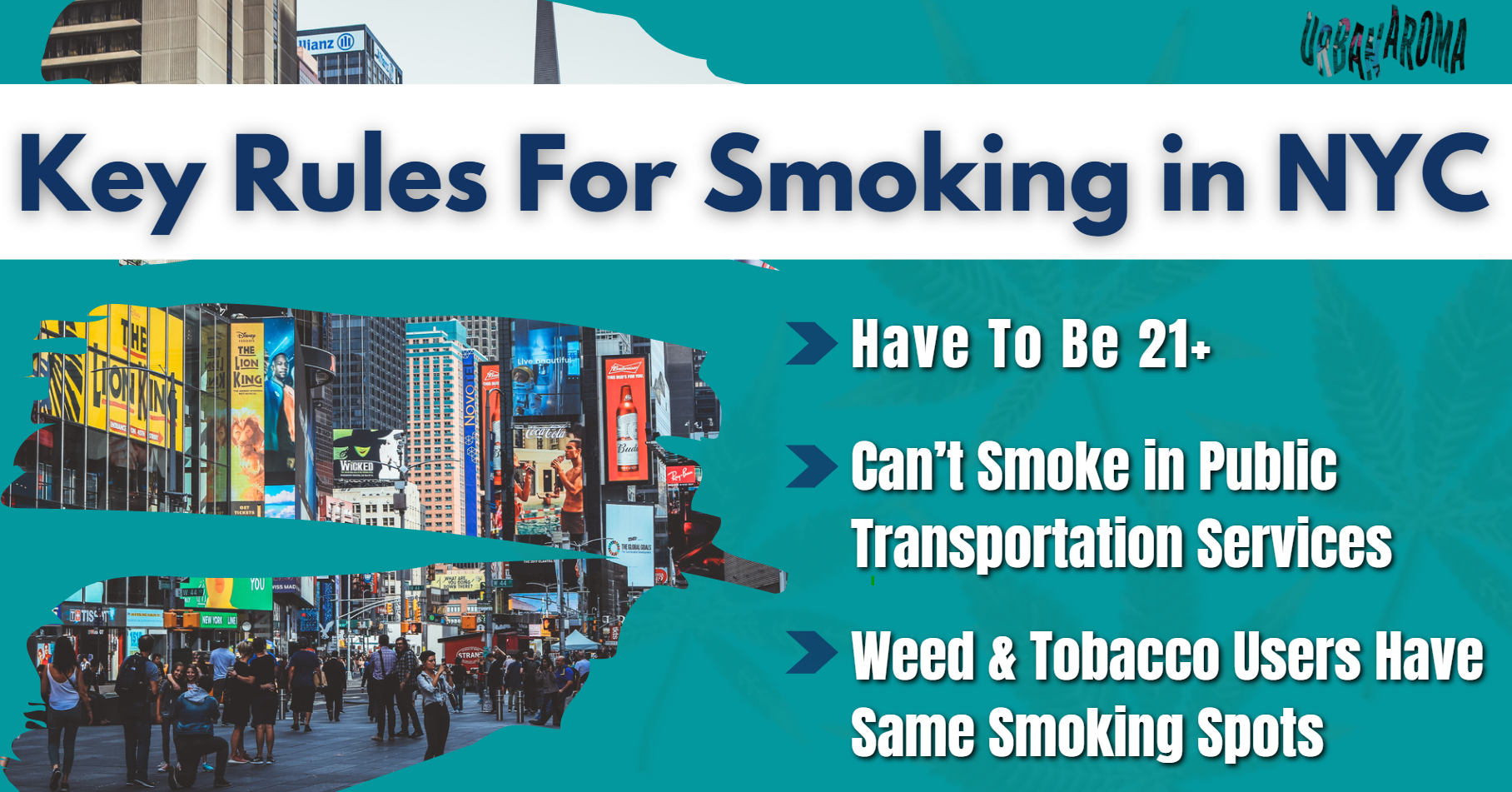 Is It Legal to Smoke Weed in New York?
While medical weed has been legal in New York since 2014, the state only legalized recreational weed earlier this year. That has a lot of people wondering: "Is it legal to smoke weed in NYC?" The short answer here is: yes, but also no. I know, I was confused at first too. Now that recreational weed is legal, you can start smoking in NYC. However, while you can legally smoke, there are certain places where it isn't allowed — and you can get into a bit of trouble if you aren't careful.
‌
So, can you smoke weed in NYC? Yes. However, location matters. According to the new law, smoking weed in NYC is legal anywhere smoking tobacco is. While you won't go to jail for smoking pot in NYC, you could have to pay a fine if you get caught in a place you shouldn't be smoking.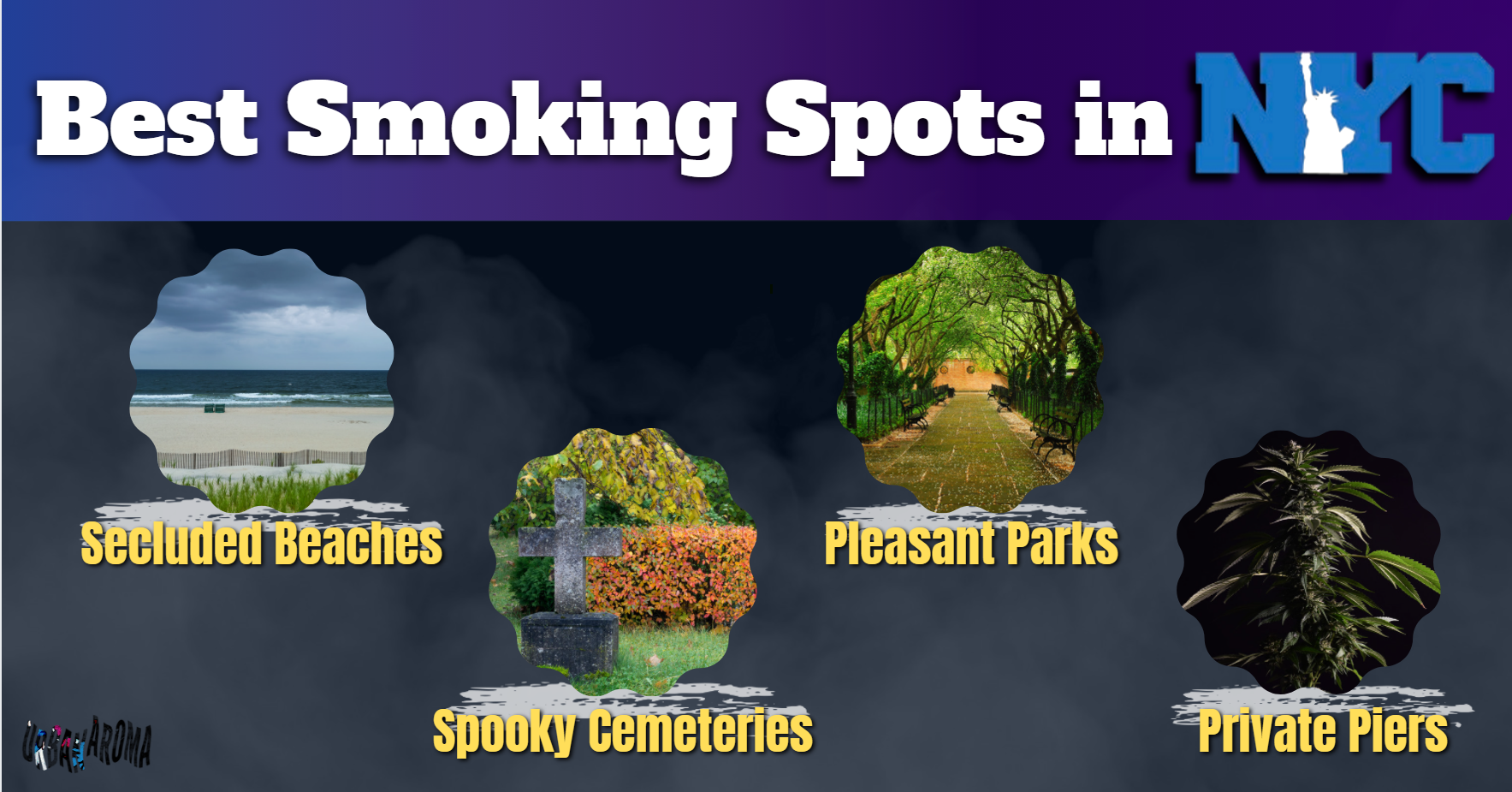 Don't worry — we've got you covered with some of the best places to smoke weed in NYC down below. We've also got another article that details how to find high-quality weed products in the city. ‌Armed with the knowledge that you can smoke legally (in certain places), you'll be ready to visit NYC and enjoy your favorite strains at the same time.
New York Marijuana: Where Can I Smoke in NYC?
After finding out, is it legal to smoke weed in NYC, your next step is figuring out where can you smoke in NYC. While the MRTA is still in draft, certain parts of the law are being rolled out now. We saw the changes occurring when NYPD officers received a memo instructing all officers not to arrest anyone for carrying a minor amount of marijuana in NYC.
As far as where you can smoke goes, here's an easy rule of thumb to follow: wherever you can smoke cigarettes, you can also smoke marijuana. Smoking a cigarette in public is governed by the Clean Indoor Air Act, and so far, marijuana is being regulated the same way. This means restaurants, bars, offices, parks, beaches, pools, subways, ferries, and stores are off-limits.
If you are caught smoking in a prohibited area, you can expect to receive a small fine or even community service. Also, marijuana is not yet legal under federal law; this means that all federal properties are off-limit as well, such as public housing units.
Before we dive into the best places to smoke weed in NYC, we've got one more piece of advice to offer: use your best judgment before you light up.
Just because some people smoke in the locations we're about to share, that doesn't mean it's 100% legal for you to do so. Some of these spots happen to be popular. If you see a bunch of others lighting up, feel free to join in. However, you might want to head somewhere else if you happen to see cops nearby.
‌
Smoking Weed in NYC – Peaceful Parks
New York City parks are some of the most beautiful places I've ever visited. The scenery (and the experience of being surrounded by nature) can be even better after a hit or two. There is a catch, though. While you can smoke outdoors in NYC, there are some parks where smoking isn't allowed.
‌
While you can't just light up in any NYC park, a few are known to be favorite spots with smokers. One of the best-known parks for smoking in NYC is Prospect Park in Brooklyn. I've been here a few times, and it's easy to see why so many smokers enjoy it. It's absolutely gorgeous — there are some great walking trails, a lake, and a ton of incredible greenery. In the middle of an urban area, this place is an oasis.
‌
For smokers, Prospect Park also offers plenty of secluded areas to light up. You'll find cozy ravines through which you hike while you smoke. My personal favorite spot is Litchfield Villa. As you smoke, you can enjoy the flowers that grow there. Keep in mind that you'll want to be on the lookout for park rangers. If you're like most smokers, you're not looking for trouble while smoking in NYC — and while you won't get arrested, you could be fined. So it's best to keep your eyes peeled, even in the more private spots throughout the park.
‌
Another great place for smoking in NYC is The Ramble in Central Park. The most well-known of the three woodland landscapes in this park, this area features 36 acres of natural beauty designed to look like the forests of upstate New York. There are plenty of winding paths, rustic bridges, and rock outcroppings. It's also close to some gorgeous landscapes, including a lake and Belvedere Castle. The most important feature, particularly for weed smokers, is that The Ramble offers plenty of privacy. You can enjoy smoking weed in NYC in peace while also immersing yourself in nature (even though you're actually right in the heart of a bustling city). It's an escape you don't want to miss. Again, you still want to be on the lookout for cops or park rangers.
‌
Smoking in NYC – Sunny Beaches & Piers
Like parks, smoking in NYC is also illegal at beaches (this includes both tobacco products and weed). Even so, there are plenty of secluded spots that smokers like to visit. One of the best places to smoke weed in NYC (beachwise) is Jacob Riis Beach in Queens. It's quiet and private, which is perfect for those looking to get away from the hustle and bustle of city life. It is only accessible during the summer, though.
‌
Despite being tucked away, there are plenty of food options nearby if you're hungry after your smoke. Riis Park Bazaar offers several places to grab a bite, like Oddfellows, Two Dudes, and The Dropout. You could also check out Cuisine by Claudette or the Caracas Arepa Bar. These are all great spots to try after getting the munchies from smoking in NYC.
‌
Brighton Beach in Brooklyn is a popular spot that's known to have many visiting smokers. So if you're looking to socialize a bit with like-minded individuals and you want to be near the water, this may be the place for you. Again, there are plenty of food options close by, so you can always grab a bite to eat before heading home or back to your hotel.
‌
If you want to take in some incredible views while smoking in NYC, we've got a couple of NYC piers you won't want to miss either. The Christopher Street Pier (in Manhattan West Side) offers an incredible view of the city skyline. The Valentino Pier in Brooklyn is a bit more secluded, but it does feature an unforgettable view of the Statue of Liberty.
‌
Smoking Pot in NYC – Scary Cemeteries
For smokers who are into all things spooky, we haven't forgotten about you. If you're looking for a creepy or eerie ambiance area while smoking pot in NYC, head to the Greenwood Cemetery in Brooklyn. Several famous New Yorkers are buried there, including Leonard Bernstein and William "Bill the Butcher" Poole. In addition to being a burial ground, it's also a garden park. It gives you a great mix of scary and beauty that's hard to beat.
‌
Where Can't You Smoke in NYC?
While you can smoke in NYC, there are several places you can't smoke. These include:
Public transportation services (such as buses, trains, and airports)

Museums

Movie theaters

Other indoor public venues
And while you can smoke weed outdoors, you're not supposed to do so where you also aren't allowed to smoke tobacco.
‌
This doesn't mean there are no places that allow you to smoke. Some spots are popular with smokers, and they'll still go there even though it's technically not allowed (which includes the spots we've mentioned above). Always be aware of your surroundings and be on the lookout for cops, no matter how secluded you think you are. You might not go to jail, but you could have to pay a fine. If you'd prefer to avoid trouble, take a good look around before you pull out your supplies and start smoking in NYC.
‌
The Anticipated NYC Smoking Lounges
The legalization of weed in New York opened the door to smoking lounges. The law itself does say that weed enthusiasts can continue smoking in NYC and use other weed products at indoor "consumption sites." However, they're not a thing just yet, and they may not start popping up for a while.
‌
The state only legalized adult-use weed earlier this year. It still needs to finish putting together an Office of Cannabis Management. That office will be responsible for regulating both the recreational market and the existing medical market. There can't be any regulations until New York gets five members for its Cannabis Control Board, so there will likely be a bit of a wait. How long it will take, we don't yet know. In the meantime, you'll have to enjoy your favorite strains in the privacy of your own home (or your friend's house) or one of the places we've provided above.
‌
Bottom Line
When it comes to smoking in NYC, visitors and residents have options. There are plenty of well-known and more secluded places to smoke in NYC, including parks, beaches, and even graveyards. Whether you want to socialize with other smokers or you'd prefer to be alone, you have places you can go.
‌
Just because smoking in NYC is legal doesn't mean you can light up anywhere. While you can head to some of the best places to smoke weed in NYC we've mentioned above, you should always exercise caution. Even when tucked away from the rest of society, you'll want to watch out for cops or park rangers. That way, you can enjoy your smoke in peace and avoid unwanted trouble.