Rating: 9.4 Nothing against the Purple Trainwreck, but it was nothing incredibly special. Just an all-around good smoke. It was smooth, looked nice, and had a long-lasting high. Miraculously I didn't get the munchies, but I did drink about 4 liters of water because I was talking so much.
Sometimes a hybrid is just that: a little bit of column A, a little bit of column B.
If you're looking for an uplifting and well-balanced hybrid strain to help you relax after a long day? Look no further than the Purple Trainwreck strain from the Humboldt Seed Organization!
With THC levels in the mid-range of 15-17%, this versatile smoke is the perfect choice for those who want a little bit of both worlds. And the best part? You won't have to break the bank to enjoy its effects.
I recently got my hands on some Purple Trainwreck flower, and let me tell you, it did not disappoint. The buds were absolutely gorgeous, with a purple tint that really stood out in the tips which were more noticeable inside the bag full of flowers. They weren't too dense, but they were big and sparkly, making for an all-around delightful smoking experience.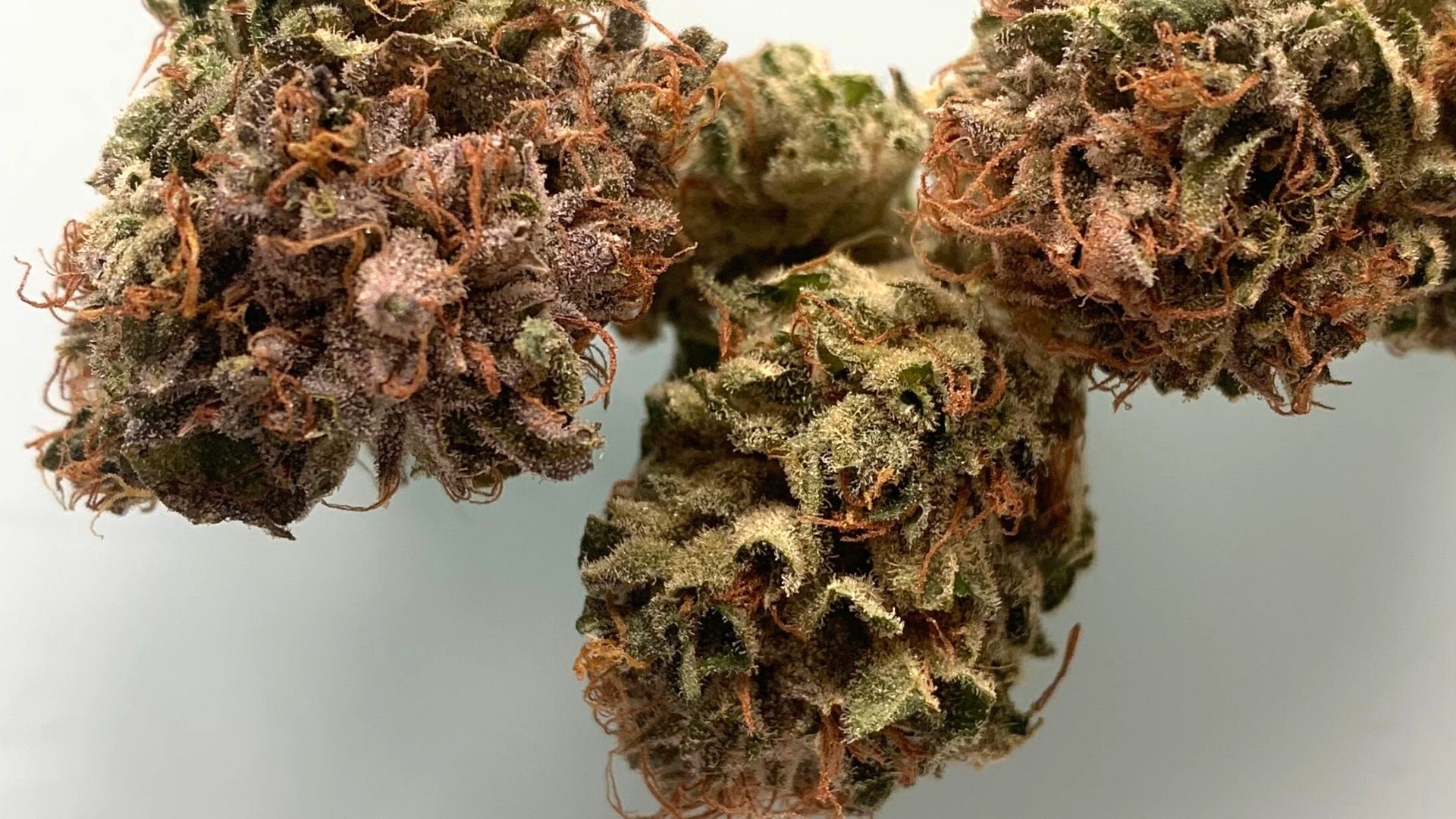 Nature's Buzz
Purple Trainwreck is a really earthy marijuana, but it didn't have any one particular note that stood out. When I first smelled Purple Trainwreck, it was like a breath of fresh air. It had a really natural aroma that reminded me of the great outdoors. My friend had a different take and said it smelled like lavender growing in a forest. Either way, it was a delightful experience for the senses.
Once we started smoking, it wasn't long before we were feeling the effects. Purple Trainwreck made us feel super chatty and playful, and we spent hours talking and laughing. The cerebral high got our creative juices flowing, and we came up with all sorts of brilliant ideas.
As the high progressed, we started to feel a nice, light buzz throughout our bodies. When we started to feel a little bit lazy, we knew it was time for round two. And let me tell you, it was just as amazing as the first.
Trainwreck Aroma
Purple Trainwreck is the cannabis strain to choose if you're seeking for something with a clean, natural scent. This hybrid strain is renowned for its distinctive and delightful aroma, which is reminiscent of the outdoors and fresh air. The perfume of Purple Trainwreck is sure to impress, whether you're a fan of nature or simply seeking a novel and intriguing cannabis experience.
Coming from my experience, Purple Trainwreck has a wonderful scent. Compared to some of the more overpowering strains out there, it's a breath of fresh air. In fact, one of the things that sets Purple Trainwreck apart from the competition is the organic scent. If you're curious about how it smells, some people have said that it smells like lavender that is growing in a forest. Purple Trainwreck is therefore definitely worth a try if you're seeking for a strain that is both refreshing and distinctive!
Purple Trainwreck Effects Profile
If you're looking for a versatile cannabis strain, Purple Trainwreck may be just what you need. As an indica-dominant hybrid, it offers a unique combination of effects that include both uplifting and relaxing sensations. The sativa-dominant characteristics of the strain contribute to an energetic and cerebral high, which can help promote creativity and generate new ideas. As the high progresses, users often experience a pleasant shift to a light body buzz that helps them unwind after a long day.
The cerebral effects of Purple Trainwreck are particularly noteworthy. Many users report feeling more chatty and playful after smoking this strain, making it a great choice for socializing with friends. The creative boost it provides can also be a boon for artists, writers, and other creative types. As the high progresses, the effects become more physical, with a light buzz that's perfect for relaxing and unwinding.
Whether you're a fan of indica-dominant or sativa-dominant strains, Purple Trainwreck offers a little something for everyone. Its unique combination of effects is what sets it apart from other strains, making it a must-try for any cannabis enthusiast.
Personal Experience - Restorative & Versatile
The second joint brought on an even more psychedelic feeling, probably because we had now gone through the physical effects of the first round. We fell into a bit of a time warp, and talked for what seemed like many more hours, but the second round of giddiness didn't last as long. We were definitely at one with the sofa by the end of the night. I can see how this would be a great therapeutic weed. The effects are long-lasting enough that it would be ideal for chronic pain, and the knock-out effect towards the end would work well for those suffering from insomnia. I had a very deep sleep after just two joints, and woke up the next day feeling relaxed and revitalized.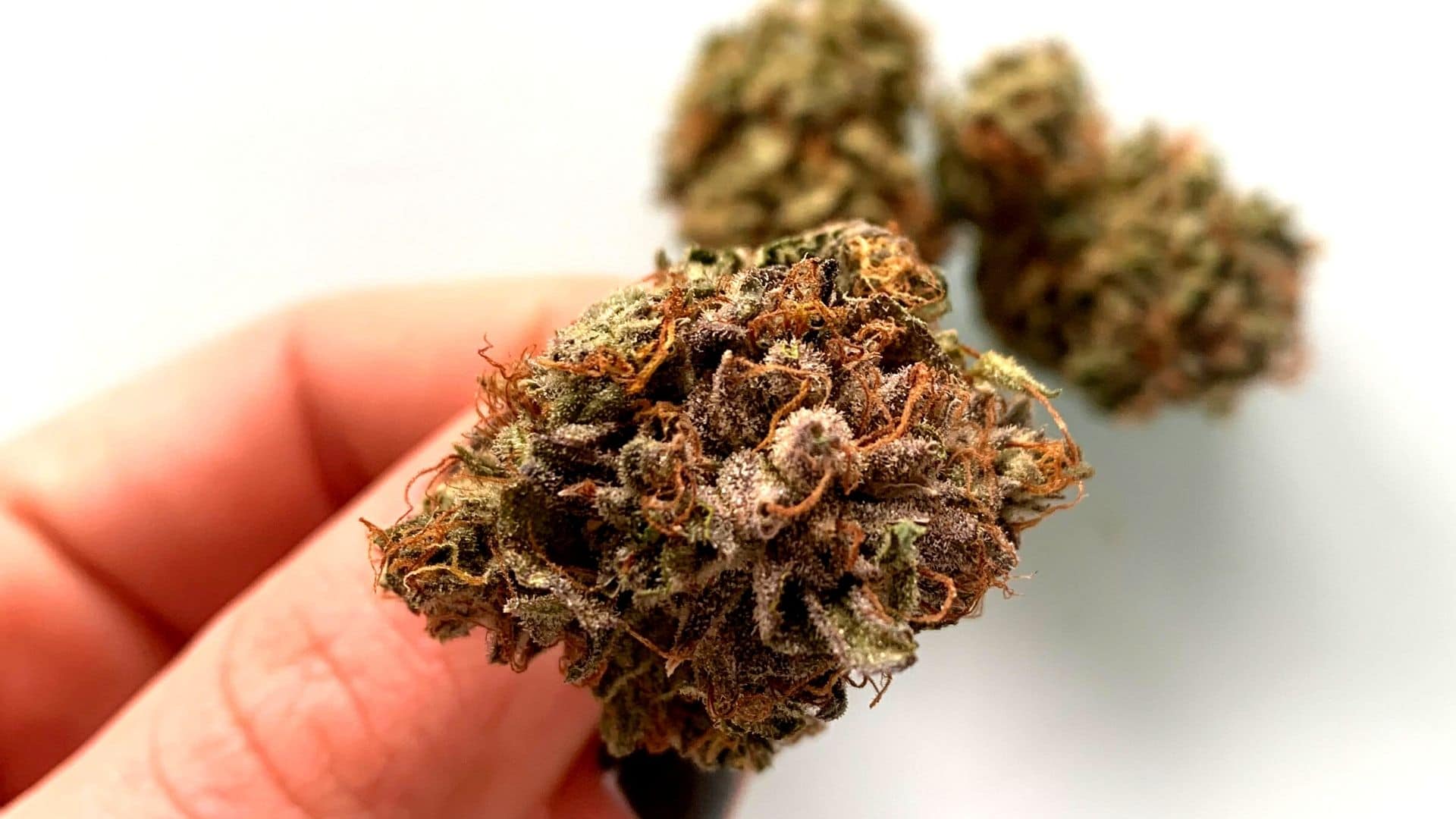 Final Thoughts:
In conclusion, if you're looking for an earthy and refreshing marijuana strain, Purple Trainwreck is a great choice. Its natural aroma, which some describe as similar to lavender growing in a forest, is a unique and delightful experience for the senses.
Not only is the aroma of Purple Trainwreck noteworthy, but its effects are equally impressive. The cerebral high of this strain is sure to get your creative juices flowing, making it a great choice for artists, writers, and musicians. Plus, the light buzz that follows is the perfect way to wind down after a long day.
Based on my personal experience with Purple Trainwreck, I highly recommend giving it a try. The effects are both uplifting and relaxing, making it a versatile and enjoyable strain for any occasion. So, roll up a joint or fire up the vaporizer and see for yourself why Purple Trainwreck is quickly becoming a fan favorite among cannabis enthusiasts!