Whip this one out of your stash when you want to impress. Not only does she have an incredible color and aroma, she tastes like summer.
Orange Sherbert is a hard-to-find strain coming from the geniuses at Barneys Farm. She's an all-American cross of Orange Cream, Purple Urkle and Cherry Pie — truly a meeting of marijuana's greatest genetics. I suspect she's so rare because once you get your hands on this strain, no way you're letting her out of your grip. She won 2nd place in the Indica Category at the 2020 Spannabis Cup, so I suspect we'll be seeing her around a lot more.
I Call Her 'The Showoff'
The photos don't even begin to do this lady justice. The pistils are a shocking orange hue. I've seen all sorts of colors of marijuana in my day, but I promise you I've never seen this shade of orange in my life. I get so used to weed being primarily green that whenever I come across a variety like Orange Sherbert, I'm totally in awe of it, reminded that these are beautiful flowers after all.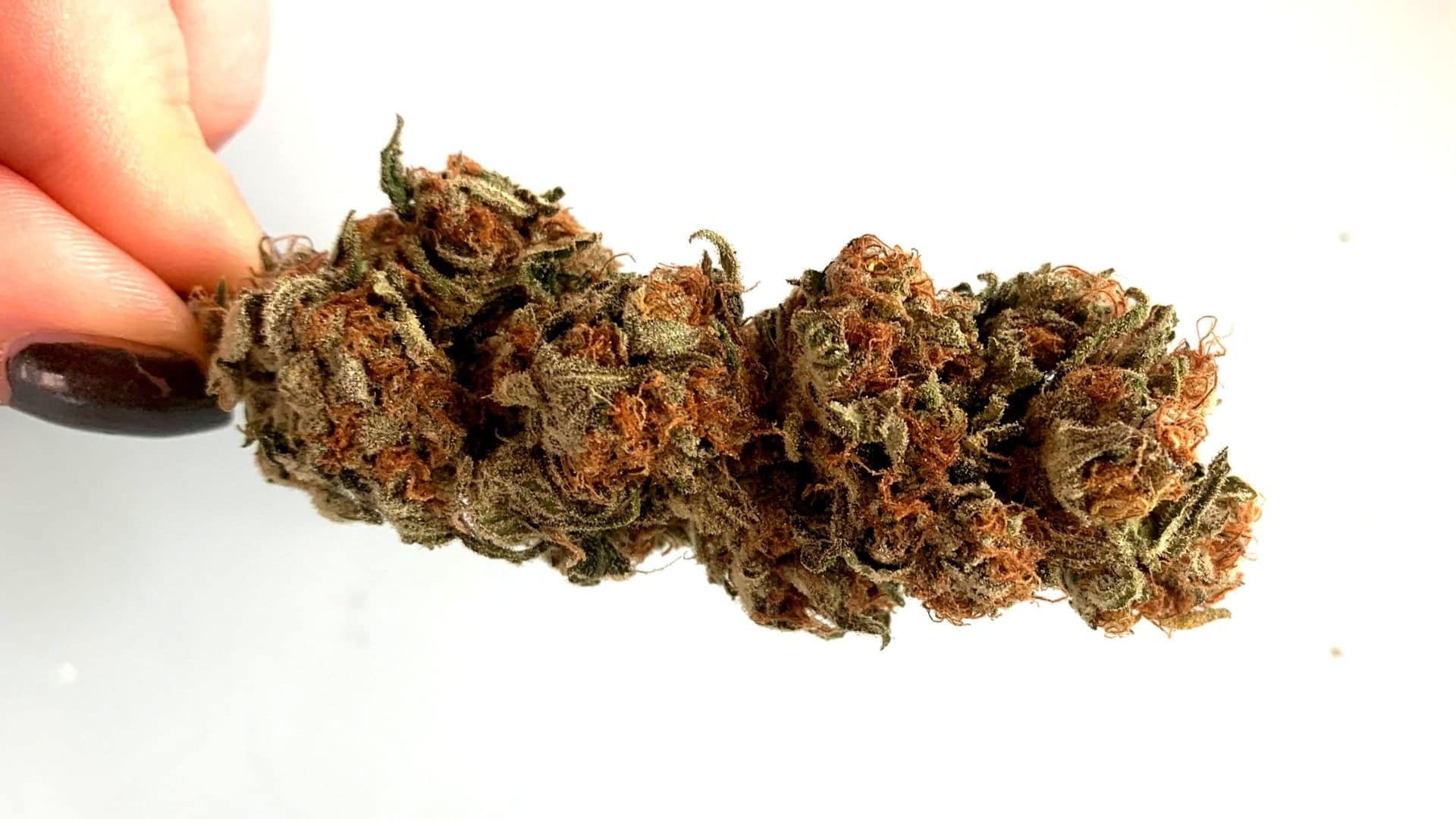 I was sitting there marveling at the colors and probably would have kept doing so for another hour, but my smoking buddy was getting impatient so we rolled up a fatty. As always, in transparent cellulose papers. Amidst the excitement of it all, I forgot to take a photo of how this weed looked broken up, so you'll just have to take my word for it — it was beautiful.
Sweet & Mellow
The buds are really dense and open up to a mouthwatering sweet, orange aroma. If you've never had orange sherbert — as in the ice cream — think of cracking open a cold orange soda on a hot summer afternoon. And the high is perfect for posting up with pals. We kept smoking throughout the afternoon as we cruised around and ran errands and while we were always very chilled out, there was no overwhelming feeling of laziness.
This indica-dominant (80%) hybrid tops out at around 20% THC levels, making this a perfect all-day smoke. It's not a knock-you-off-your feet type of indica. A strain like this is great to smoke when you want to relax but not spend the day melting into your sofa. We were able to puff on this all day long and still get a list of errands done.
Orange Sherbert is the perfect strain for when you want something delicious and beautiful, but not too overpowering. She's not the strongest, but she may just be the most delicious weed I've had in awhile.
Rating: 9.2 Don't get me wrong: for some people, Orange Sherbert might be a perfect 10. What she lacks in oomph, she makes up for in looks and taste. But I like to get a little bit more bang for my buck, and I found that the high was a little short-lived for my exquisite tastes. Still though, if you can get your hands on some of this, don't hesitate for a second.