How To Find Weed in Barcelona
If you're looking to purchase weed in Barcelona, your chances are fair at best.
But to obtain or acquire weed in Barcelona is a whole other story.
Barcelona's Anti-Drug Office declared private cannabis consumption or cultivation not a crime in the early 2000s. Since then, the daily high that users want is much easier.
While it is still illegal to purchase weed, obtaining it has been made easy with the birth of cannabis clubs. Cannabis Clubs, cultural associations, or coffee shops are a popular way to enjoy getting high socially. There is no Barcelona law that cracks down on these said places.
Is Weed Legal In Barcelona?
The short answer is no. Weed is considered illegal in Barcelona. But marijuana for personal use in Spain has been decriminalized. However, this does not merit transporting or smoking it.
You are allowed to grow marijuana in your private household, even if you are renting the place. The limit for cannabis plants in cultivation is up to two plants with no limit of how high they can grow. All selling and trafficking of marijuana are illegal in Barcelona, well, all of Spain, really.
The intention of decriminalizing Barcelona weed is for private, in-home use.
In addition to home use, private use is also considered acceptable for Cannabis Clubs. Furthermore, it is not allowed for Barcelona law enforcement officials to search you in your private areas. This means if you plan to leave a Cannabis Club and take the remainder of the marijuana you didn't consume, just store it in your undergarments and you will not be fined.
Essentially, it is advised not to smoke weed in public, and no transportation of 2 ounces or more at any given time. While transporting weed, keep it hidden at all times. Yes, that means in your undies, just to be clear.
How to Find Weed in Barcelona
The frustration of being allowed to grow marijuana but not allowed to sell it was shared by many recreational users. Thus, leading to the production of cannabis clubs, cultural associations, and coffee shops.
Barcelona is commonly related to Amsterdam in the sense that you can smoke weed freely in certain establishments. But the difference between the two cities is still vast. Becoming a member of these cannabis organizations is required for entry into Barcelona.
Finding weed in Barcelona may seem a little harder for tourists. But we're here to let you know that's far from the truth.
The cannabis culture is to be considered as an underground activity but with that being said, there are over 300 active clubs throughout Barcelona.
The key to gain access to these clubs is to become a member, so how does this work?
Barcelona Cannabis Clubs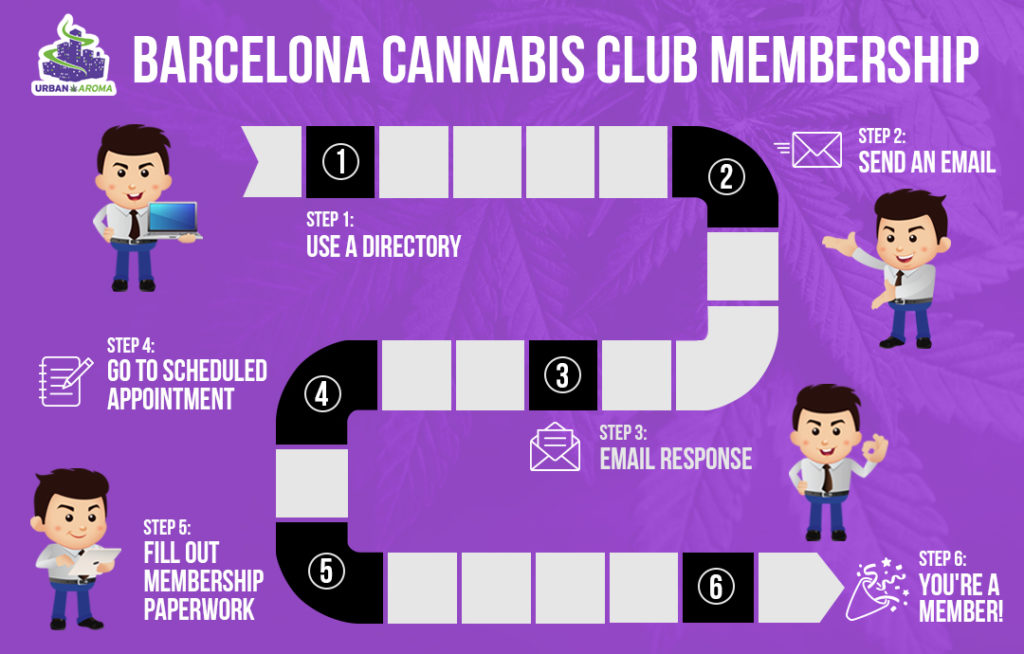 To Barcelona natives that puff a spliff regularly, being a member of cannabis clubs is a must. But let's say you're visiting and you want to enjoy weed socially in one of these clubs. Keep in mind, purchasing weed is not legal and that's not how these clubs work.
Through membership costs, this is what keeps the organization up and running. Prices vary from cannabis club to cannabis club but it is estimated the costs for membership come out to a range anywhere from 10-20 euros/gram.
One must obtain a membership. But without the allowance of public advertisement how does a tourist gain a membership? Use a trusted directory with a reputable selection of cannabis clubs. At Urban Aroma, we've gone through the process of finding the top recommended places to enjoy weed socially.
Becoming a member of these places is as easy as sending a preliminary email with certain information that is required. Once you've sent the email, there will be a scheduled registration appointment.
Simply attend your registration appointment. At the appointment, you'll be required to fill out some paperwork by the organization. It is important to note that all of your information is kept private. Furthermore, since weed is decriminalized in Barcelona, none of these cannabis clubs get hassled by law enforcement. You are safe and protected!
Once you fill out the paperwork, just like that, you are now a cannabis club member in Barcelona. Pretty cool bragging rights, eh?
Conclusion
Yes, weed is still considered illegal in Barcelona. But as with many laws, proper research has been done to find ways to stay legal within the law.
Please let us know your experience in the comment section, we love to hear feedback!