Oklahoma Marijuana - How to Buy Oklahoma Cannabis Legally in 2021
Like so many states embracing weed legalization, Oklahoma marijuana made its way through the legal pearly gates by welcoming medical cannabis.
We know what you're thinking: "Anyone can buy weed in Oklahoma?"
Not necessarily. Oklahoma marijuana laws are strict, and despite legalization of medical cannabis back in 2018, there are still strict rules in place.
In this article, we will provide you with the four best Oklahoma medical marijuana dispensaries, show you how to safely buy Oklahoma marijuana, and fill you in on everything you need to learn about Oklahoma weed laws so you steer clear of any legal issues.
Keep reading to see how you can legally get your hands on some delicious Oklahoma cannabis.
Oklahoma Medical Marijuana - Four Trusted and Verified Dispensaries
With over 2000 Oklahoma medical marijuana dispensaries open, the state currently has the largest number of stores in the nation.
To save you the time and hassle of figuring out which Oklahoma marijuana dispensary is right for you, we've sorted through them, and handpicked four medical dispensaries that we think are the best for value, quality, and product selections based on user reviews and frequent customers.
Lit Leaf
Cannabis Company - Oklahoma Medical Dispensary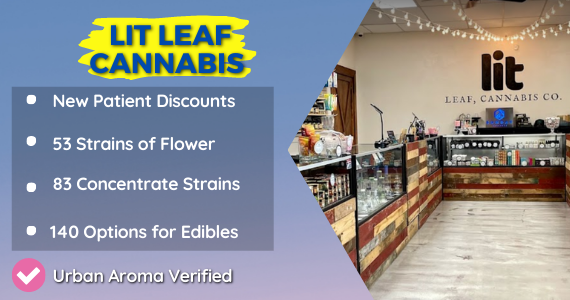 This Oklahoma medical dispensary is a locally owned mom and pop shop that carries a variety of tasty cannabis options. Lit Leaf carries dry flowers, concentrates, edibles, pre-rolls, and topicals to choose from. You can visit the shop in person, or order online through their Leafly listing for a seamless shopping experience.
Likewise
Cannabis Plaza Dispensary in Oklahoma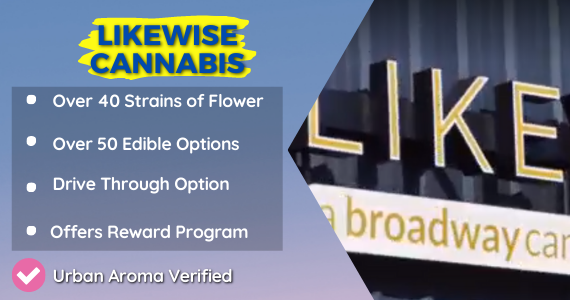 Likewise is known for their vast selection of cannabis options with great prices for the quality you receive. They provide high-quality Oklahoma marijuana flower, pre-rolls, vaporizers, concentrates, edibles, tinctures, topicals, weed accessories, multiple cannabis brands, and even seeds! With so much to choose from, you're bound to find something you love from this dispensary in Oklahoma. All taxes are included with your order. They even offer cooking and growing classes for those interested in learning. Did we mention you can sign up for their reward program to get discounts and loyalty points? What an awesome bonus!
Higher Health
Oklahoma Medical Marijuana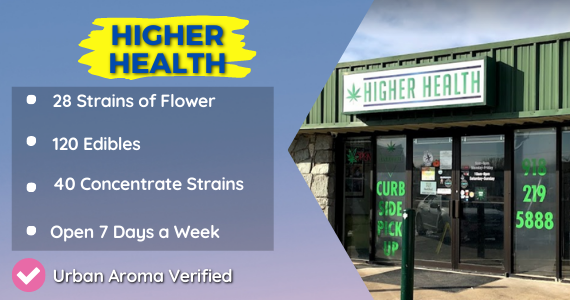 Higher Health is a native female Oklahoman-owned business. With affordable prices for great quality cannabis, you can enjoy Higher Health's wide selection of choices. They provide marijuana lovers with dry flowers, concentrates, edibles, cartridges, pre-rolls, topicals, accessories and even shroom capsules for those looking for a good time. Higher Health is also open seven days a week, so you don't have to worry about not being able to get your hands on Oklahoma medical marijuana.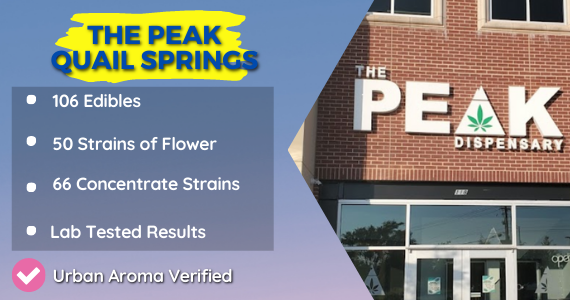 This Oklahoma dispensary stands out from most stores in the area due to the simple fact that they offer users verified and trusted lab results. Nothing is better than knowing exactly what you are buying and smoking, no matter your strain of choice. Peak Quail Springs offers flower, concentrates, edibles, vape pens, topicals, merchandise, and gear including bongs, pipes, and dab rigs. Plus, they offer clones for sale, so you can cultivate your own delicious Oklahoma marijuana.
Is Weed Legal in Oklahoma?
With so many dispensaries open in the state, people are still wondering: Is weed legal in Oklahoma? Weed is illegal in the state of Oklahoma for recreational a.k.a. adult use, but it is legal for medical use. You must have a state-issued license to sell Oklahoma marijuana. CBD products made from hemp can be sold without a license.
In fact, you could potentially face hefty fines and possible jail time for possession of more than 1.5 ounces of Oklahoma marijuana without a valid state-issued medical card. It is also illegal to smoke anywhere in public in the state, regardless of whether or not you have a medical card. Your safest bet is to smoke indoors within the comfort of your own home or on private property. For more information about Oklahoma laws, go here.
Oklahoma Recreational Weed - What You Need to Know
Unfortunately, for weed enthusiasts out there wondering "is recreational weed legal in Oklahoma?", the answer is a hard no. Oklahoma recreational weed is not permitted. The bill failed to pass in the 2020 ballot for adult use of marijuana due to delays and the coronavirus pandemic. The good news is, activists are already preparing for the upcoming 2020 ballot. Until then, the only legal way to buy cannabis is through an Oklahoma medical dispensary.
Oklahoma Weed Laws for Medicinal Marijuana
Without question, Oklahoma weed laws have paved the way for the blossoming of medical dispensaries in the state.
Because voters passed State Question 788 in 2018, it is now legal to possess, grow, consume, and smoke medical Oklahoma marijuana. This Oklahoma weed law made it possible for those who need cannabis for a medical reason to legally access it. Oklahoma weed laws passed after lawmakers and voters recognized the potential benefits of medical weed.
How to Obtain an Oklahoma Medical Marijuana Card
Since mid-2018, when the state approved the medical marijuana bill, it is legal to buy medical weed — but only when prescribed with a valid state-issued Oklahoma medical marijuana card. The state law recognizes that hundreds of thousands of people are seeking relief from many conditions, including migraines, anxiety, cancer, PTSD, Crohn's disease, and more.
How do you get an Oklahoma medical marijuana card? Simple. See your doctor. A medical professional will evaluate you to see if your condition is eligible for medical marijuana. There is no list of qualifying conditions, nor any specified criteria for patients to receive a doctor's recommendation. Once you are approved by a physician and receive your medical cannabis card, you can go to a dispensary in your area to purchase legal medical cannabis.
The Importance of an Oklahoma Medical Marijuana License
Without an Oklahoma medical marijuana license, you will not be allowed to enter any dispensaries. Under Oklahoma weed law, recreational use is not allowed in the state, and it is mandatory to obtain a medical license to purchase any amount of cannabis. Oklahoma marijuana is strictly off limits for those without a valid issued card, and therefore, it is crucial to make sure you obtain one so that you can have access to all the premium cannabis strains in the state while avoiding legal issues.
Oklahoma Medical Marijuana Possession Limits
Legally, you can possess up to three ounces of medical marijuana at a time. But what if you are growing it? How many plants can you have? Excellent question! Under Oklahoma law, you can have:
3 ounces of marijuana on your person

1 ounce of cannabis concentrates

72 ounces of edible marijuana products

8 ounces of marijuana at home

6 mature marijuana plants (defined as plants that are in the budding stage)

6 seedling plants (defined as plants that are in the vegetative stage and are not yet budding)
If found in possession of Oklahoma weed without your medical card, or if you don't have one at all, you can face jail time of one year, charged with a misdemeanor, and up to $1000 in fines. According to attorneys in Oklahoma, even if it's for personal use, the charge can be much worse if it isn't medical and you don't have proof of how you obtained it. This may also depend on how much Oklahoma marijuana you have on you when selling and buying illegally. As long as you have a medical card, you can possess as much as is listed above. Make sure you visit your doctor to get your evaluation to smoke weed legally when in Oklahoma City.


Can I Get Oklahoma Marijuana Delivered?
There are many cities in the US where you can get weed delivery like Washington DC, but Oklahoma City isn't one of them. The governor of Oklahoma vetoed a bill in 2020 that would have allowed for home delivery of medical marijuana. Dispensaries would have been able to deliver to patients within a 10-mile radius of their location, but the bill wasn't allowed to become law. Currently, only licensed caregivers are allowed to bring weed to their patients.
Safely Buying Oklahoma Cannabis
In spite of Oklahoma cannabis gaining popularity in the state with a large number of growing medical dispensaries, it can still be a difficult process to obtain Oklahoma marijuana for many users who are not familiar with the rules and regulations.
As long as you are aware of Oklahoma marijuana laws and acquire an Oklahoma medical marijuana card, you will be well on your way to getting your hands on some premium weed. And as medical marijuana prices in Oklahoma drop lower and lower every month to stay competitive in the market, you won't have to worry about having to spend a fortune for quality.
So is Recreational Weed Legal in Oklahoma?
Currently, there is no such thing as legally buying or purchasing Oklahoma recreational weed. Unfortunately the adult-use bill was vetoed. With Oklahoma marijuana quickly flooding the state, it has been difficult to keep up with the demand for Oklahoma cannabis. Although there is no way as of now to obtain Oklahoma weed without an Oklahoma medical marijuana card, there are still many ways to get an Oklahoma medical marijuana license so that you can purchase premium cannabis in the state.