Buying Weed in NYC: How To Find the Best Weed in NYC
Decades ago, if you wanted to buy weed in NYC, you had to go into the shadows of local parks or connect with underground dealers who roamed the streets with backpacks full of bud. It wasn't easy to find, you didn't know what you were going to get, and it was risky and illegal. Today, all that has changed.
Is weed legal in NYC? Wonderfully, the answer is yes! But that doesn't exactly make it easy to find. While you no longer have to resort to shady dealings to buy cannabis to enjoy, you'll still need to know where to look. This guide will help answer all your questions about how and where to buy weed in NYC.
By understanding the laws, stores, and options for buying weed in NYC, you can be confident that you aren't putting yourself or others in an unnecessarily risky situation just to get a toke. In New York City, there are plenty of ways to enjoy weed without dredging up any paranoia. Keep reading to get in the know.
Current NYC Weed Laws
Now you know the answer to the question, "Is weed legal in New York?" But there are limitations, of course. First, it is only legal for adults who are age 21 or older. Anyone under 21 years old cannot possess any amount of cannabis legally.
Under the current law, adults can possess up to three ounces of cannabis and up to 24 grams of concentrated cannabis for personal use. You can smoke or vape weed almost anywhere you're allowed to smoke tobacco. A difference between tobacco and cannabis is that you cannot use weed in a motor vehicle, even if it's parked. You also cannot enjoy weed in the outdoor dining areas of restaurants.
You're likely asking, "What is the penalty for weed possession in New York?" and "What happens if you get caught with weed in NY?" Well, if you're an adult who is smoking or vaping in an area that's not allowed, you could get a civil summons and a fine.
Recreational Marijuana vs Medical Marijuana in NYC
Since 2014, medical marijuana has been legal in New York. Under the current laws, state-registered health care providers can certify that medical cannabis is appropriate for treating specific conditions and provide a prescription for up to 60 days. With this prescription, you can purchase weed from medical dispensaries after registering with the state.
What are some of the benefits of weed? Although cannabis is still listed as a Schedule 1 drug by the U.S. Drug Enforcement Agency, more doctors now understand the medical and recreational benefits of cannabis. It is especially helpful for people who are suffering from chronic pain, nausea resulting from chemotherapy, and those with spasms caused by multiple sclerosis.
Researchers are overseeing new studies every day to scientifically demonstrate the benefits of cannabis, but even recreational users know that it can help with mood regulation, healthy sleep patterns, reproductive health, and much more.
Do I Need a Medical Marijuana Card?
The big difference between medical and recreational marijuana is the tax rate. To qualify for a lower tax rate and, in turn, be able to purchase cheaper marijuana, you will need a medical marijuana card to purchase weed in NYC. Having a medical card can sometimes allow you to buy specific strains that may not be available at recreational retail outlets. Otherwise, it's really not necessary anymore.
How To Get a Medical Marijuana Card in NYC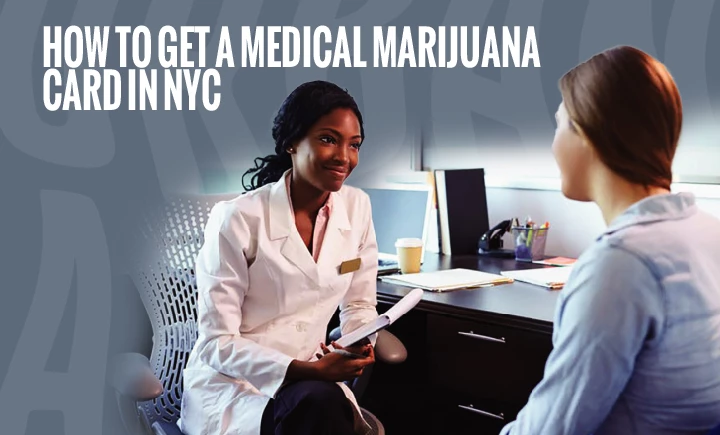 If you want to get a medical marijuana card in New York, you first must get certified. You'll need to contact your health care provider to see if a prescription is appropriate for whatever diagnosis you are interested in addressing with cannabis. Only certain health care providers can write prescriptions, so you'll want to check that they are certified by the state, too.
Then, you can register online using your New York identification number listed on your driver's license, learner's permit, or non-driving ID. You'll also need to show proof of residency, like a utility bill or pay stub. They'll want a photo of you, just showing your head and shoulders with a plain background and any proof of name change. A registry ID card will be mailed to you, and you'll get a temporary card that can be printed and used right away.
Be sure to bring your registry ID card with you to the medical dispensary when you're ready to buy weed in NYC.
Buying Weed In NYC
If you don't want to go through the hassle and cost of applying for a medical card, you're probably still wondering where to buy weed in NYC. Yes, there are many options available to you as a recreational user! To know where to get weed in NYC, look for one of three businesses: delivery, weed trucks, and recreational dispensaries.
Weed Delivery in NYC
Is there anything better than placing a weed order online and having someone deliver it to you, while you just chill at home or in your hotel room? We think not. With weed legal in NYC, enterprising New Yorkers have created many weed delivery businesses throughout the city. Log on to Urban Aroma to see a list of the best delivery services in New York City.
Weed Trucks in NYC
Much like the popular food trucks seen throughout America, weed trucks have been seen throughout the city. What do the weed trucks in NYC sell? You can purchase the same flower, concentrates, and other cannabis products that are available online or in a brick-and-mortar store.
The tricky part is finding the truck. While it's completely legal to sell cannabis from a truck, the police have been targeting the owners of the weed trucks for unpaid parking tickets. That means they'll be moving around to keep their business operating.
Weed Dispensaries in NYC
How is weed sold in New York? The most traditional method, now that weed in NYC is legal, is selling in regular brick-and-mortar stores known as dispensaries. New York has some of the best dispensaries in the country, and you can browse a list of them through Urban Aroma's dispensary list. Some of these dispensaries also offer delivery services and online orders, which make the process of how to get weed in NYC easy and fast.
Where To Get the Best Weed in NYC
It's one thing to know how to buy weed in NYC. It's another thing to know where to get the best cannabis to enjoy. We have a rundown of places you have to check out for an excellent selection of top-quality bud and cannabis products to get the high you're looking for in the heart of the city.
Best Marijuana Dispensary Brands in NYC
If you're asking, "Where can I buy weed in NYC?" then you'll probably want to start with a dispensary. While each one is different, most dispensaries employ knowledgeable budtenders who want to make sure you get exactly what you want. You can ask questions and browse options. Bring cash since many do not accept credit cards or other forms of payment.
Many dispensaries in New York still use the gifting system, which is a legal loophole as recreational cannabis becomes more accepted. The idea is that you are buying a piece of digital art or another item and can receive a "gift" of cannabis along with your actual purchase. Be sure to be clear at the dispensary that you want to buy art, not weed. This process will relax as the laws become clear to everyone.
You can find a complete list on Urban Aroma, but here are our top picks for the best dispensaries in NYC.
Legacy NYC
You'll be able to get MRTA-compliant gifted cannabis here at Legacy NYC, located at 98 Orchard Street in New York. It's an art gallery on the Lower East Side that's a cultural destination as well as a place to get the best weed.
Gifted BK
Another great art gallery, Gifted BK is located at 153 Grand Street in Brooklyn. They have cultural events that combine the styles of the cannabis lifestyle with the enjoyment of weed itself.
Best Marijuana Delivery Services in NYC
If you want your weed to come to you, you're looking for the best marijuana delivery services. Many legal and safe businesses deliver weed in NYC to most boroughs and locations. If you have questions, you can always go online or call to ask.
Whether you're looking for flower, edibles, concentrates, tinctures, or vape cartridges, these delivery services can help you get connected with your weed in NYC.
Jumpin' Jack Flash
Also known as Gotham Medical, Jumpin' Jack Flash has no delivery fees and will deliver the same day you order to all five boroughs. What's more, you can get gifts for referring your friends!
King of New York
If you want the royal treatment, the King of New York Cannabis is the place to check out. Just text or call the number on the website, and you'll get connected with top-tier products and knowledgeable budtenders who want to make sure you feel like the king or queen you are.
Skerp Supply
With more than a decade in the business, Skerp Supply has satisfied clients throughout Brooklyn and Manhattan. You can purchase medical-grade flower as well as pen refills, gummies, jellies, prerolls, and more. Don't forget to mention "Urban Aroma" for a free preroll!
Best Edibles in NYC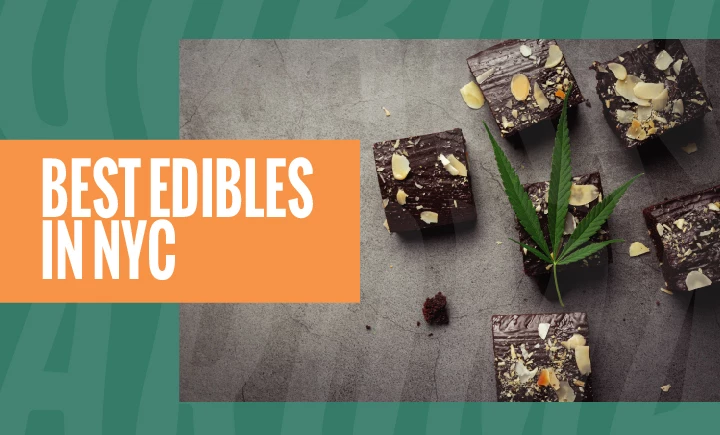 Edibles are some of the healthiest ways to consume cannabis, as you won't have to worry about what the smoke or vape does to your lungs. When people ask, "What are the effects of weed?" they don't always think about the smoke. If you want to eat your weed, you're all good.
Pizza Pusha: a Tasty Weed Option in NYC
What does weed smell like? At Pizza Pusha, it smells like a classic, fold-in-half New York-style pizza. They deliver to all five boroughs and any place within a one-hour radius of Jersey City. You can order stoned gourmet cannabis pizza — perfect for parties or late-night munchies.
Dispensaries in Brooklyn, NY
There are lots of cannabis dispensaries in Brooklyn, New York. Some of the best we've already mentioned, but here are some more you may like.
Weed in NYC: Brooklyn Dispensaries
Brooklyn Weed Delivery Services
Most of the places listed on Urban Aroma that deliver in Manhattan will also deliver in Brooklyn. These include:
Growing Cannabis in NYC
Want to grow your own weed in NYC? Here's what you need to know.
Laws on Growing Cannabis in NYC
Home cultivation is legal under New York law, with some limitations. Adults can grow and harvest cannabis in the privacy of their own homes, and you can grow even more if you live with another adult.
How Many Plants Can I Possess?
If you're an adult, you can grow up to three cannabis plants at home and store up to five pounds of cannabis at home. However, if you live with another adult, the number of plants you can legally have will increase. You'll be able to grow up to six plants, although three of them must be immature. Keep in mind: You cannot legally sell cannabis without a license from the state.
Final Thoughts on Buying Weed in NYC
Now that weed in NYC is legal both recreationally and medically, you'll be able to find exactly what you want in New York City. Start by browsing the best cannabis dispensaries and delivery services in NYC on Urban Aroma. There, you can even find awesome deals that make the process even better.