The state of Massachusetts is known for quite a few things: gorgeous landmarks and historic cities and universities, freshly caught regional seafood choices, and numerous championship-winning sports teams. What many might not know, however, is that Massachusetts actually has a thriving legal weed industry as well! That's right, weed is legal for recreational use in the state of Massachusetts!
Even though cannabis has been legalized recreationally in the Bay State, however, it can still be confusing to figure out where to buy weed in Massachusetts, let alone sort out how to buy weed in Massachusetts. After all, despite New England voters approving legal recreational weed via ballot measure all the way back in November 2016, not a single recreational cannabis dispensary opened in the state until late 2018. Flash forward to today, however, when more than 80 marijuana dispensaries have opened and customers throughout the state have generated more than $2 billion in sales according to the Cannabis Control Commission. t's clear that adult-use marijuana is here to stay in New England. But if you're a tourist coming into the state of Massachusetts who wants to enjoy legal weed - whether in Boston, Worcester, Brookline, Framingham, Newton, Pittsfield, Salem, Springfield, or anywhere else in the Bay State - figuring out how to get your hands on it can be a bit confusing.
After all, due to the patchwork nature of our legal cannabis laws here in the U.S. and the continued federal illegality of weed, pretty much every single state has differences in who can buy legal weed, how much you can buy at a time or per month, and where you can legally use it without running into trouble. Massachusetts is no different, with its own differences in the law that might trip people up. And with Massachusetts slowly becoming one of the premier cannabis tourism destinations on the East Coast, it makes sense that people have questions about how to get their hands on some legal weed. So in the spirit of making things as easy as possible during your next trip to Boston, we wanted to provide this handy go-to guide for how and where to get recreational cannabis products on your next trip to the Northeast.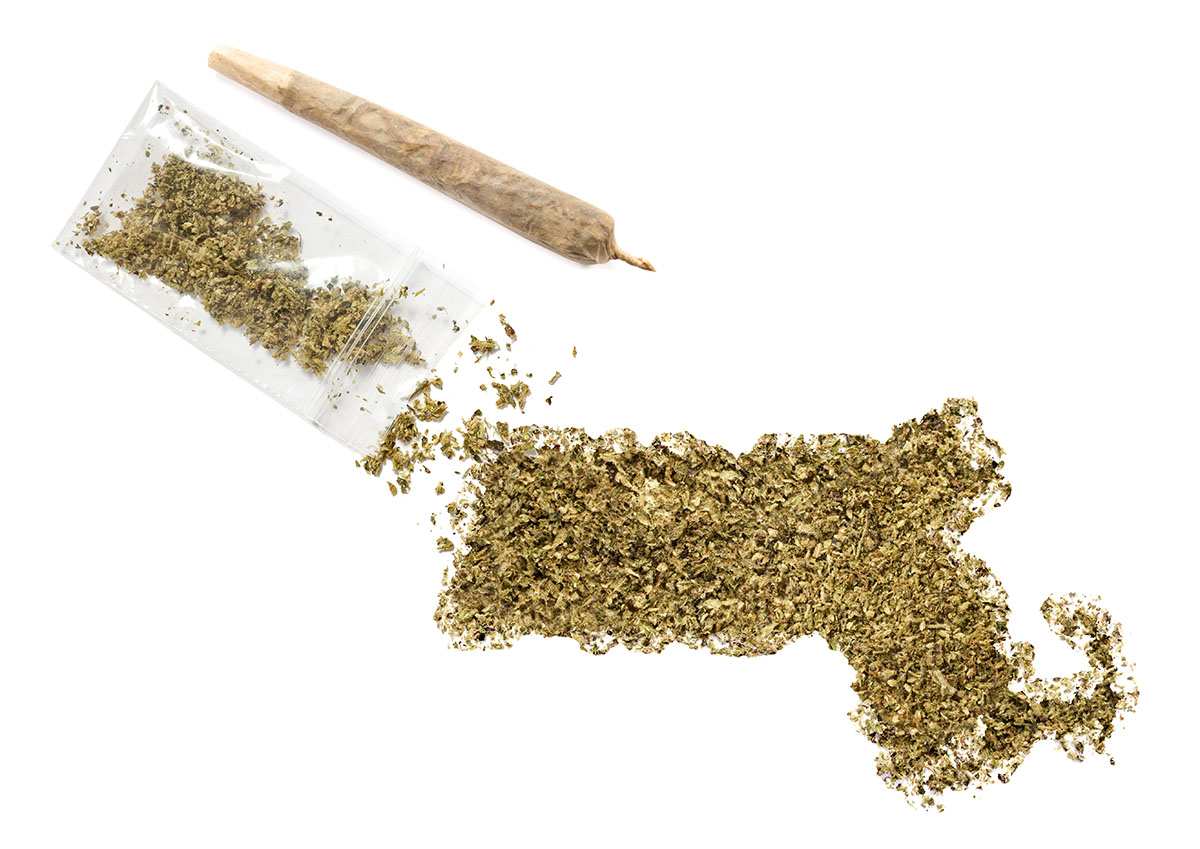 Is Weed Legal in Massachusetts in 2022?
Yes, both recreational cannabis products and medical marijuana products are available for sale at legal dispensaries in Massachusetts. Whether you're after concentrates, edibles, pre-rolls, topicals, vapes, tinctures, or even just low THC, high CBD products, you'll be able to do so in the Bay State. There are two different types of legal weed you can get in Massachusetts: medical marijuana or recreational cannabis products. Let's dig a little deeper into what makes them similar, what the differences are, and finally, how to buy some.
Recreational vs. Medical
To fully understand where and how you can buy legal weed in Massachusetts, you first need to understand the two types of legal cannabis in the state. First, let's break down recreational weed.
What Are the Laws for Buying Weed in Massachusetts?
Buying recreational pot in Massachusetts is actually easier than getting it in a place like Virginia or D.C., to name two examples. That's because, according to the letter of the law in the Bay State, you can walk into a recreational dispensary and get pretty much any cannabis product you could dream of, with no 'gifting' loophole to worry about!
All you need to purchase weed products from a recreational dispensary in the state of Massachusetts is to be 21 or older, have a valid government-issued ID like a driver's license, and cash to make the purchase. That's it! And with more than 80 licensed legal dispensaries scattered around the state, you should have no problem finding one to purchase from!
When it comes to medical dispensaries, however, things get a little bit more complicated.
Do I Need to Use a Medical Card for Weed in Massachusetts?
Unlike the recreational side that's open to anyone over a certain age, the state's medical program is a bit more exclusive. So, yes, to buy from medical dispensaries in the state of Massachusetts you'll need a medical card of your own. Just like most other states with medical programs, only those holding valid Massachusetts medical cannabis cards can buy from these dispensaries. And while some states allow for medical card holders from other states to buy from their dispensaries, which is a policy called reciprocity, Massachusetts doesn't honor cards from patients from other states. So that means the only way you can buy from a medical cannabis dispensary is if you're a part of the Massachusetts medical marijuana program. To get a card of your own, you'll need to qualify for a card in the first place.
What Are the Medical Conditions for Medical Weed n Massachusetts?
To qualify for a medical marijuana card of your own in the state of Massachusetts, you'll need a certified cannabis doctor to see you and verify that you have one of the following conditions:
Cancer

Glaucoma

Positive status for human immunodeficiency virus (HIV)

Acquired immune deficiency syndrome (AIDS)

Hepatitis C

Amyotrophic lateral sclerosis (ALS)

Crohn's disease

Parkinson's disease

Multiple sclerosis

Other debilitating conditions as determined in writing by a qualifying patient's physician.
It's important to note that the state defines "debilitating" as "causing weakness, cachexia, wasting syndrome, intractable pain, or nausea, or impairing strength or ability, and progressing to such an extent that one or more of a patient's major life activities is substantially limited."
How to Buy Recreational Weed in Massachusetts
Now that you know the basics of what types of legal marijuana products are available in the state of Massachusetts and that they're legal, let's actually get down to the nitty-gritty of how to go about buying recreational weed in New England.
To get the most out of your visit to a recreational dispensary in Massachusetts, you'll need to know a few things. That's why we assembled this handy guide to answering all the questions you might have about where and how to purchase recreational weed in Massachusetts, what you'll need to do so, where and how much weed you can safely and legally use at once, and whether or not you can take your cannabis products with you once your time in the Bay State comes to an end. Let's get into it!
Can I Buy Weed in Massachusetts
If you have a valid state-issued ID, are over the age of 21, and have the cash to pay for the products you want, then yes! Both recreational and medical cannabis are fully legal to purchase in the state of Massachusetts. Just make sure that you do your research online ahead of going into any dispensaries. Review product menus to make sure you're in the right place to get what you want for the best price, so that your transaction goes as smoothly as possible. As long as you're willing to do a little bit of research on what you're looking for and where to get it from, you'll be just fine!
What Do You Need to Buy Weed in Massachusetts?
Whether you're in Boston, Worcester, Brookline, Framingham, Newton, Pittsfield, Salem, Springfield, Chicopee, Dorchester, Northampton, Plymouth, Woburn, or anywhere else in the state of Massachusetts, you'll need the same basic stuff to visit a dispensary. All you need to make a purchase from a recreational dispensary in the state is a government-issued ID that proves you're 21 or older to the budtender behind the counter and some cash. That's it! Whether you're in-person in a brick and mortar store or placing an online pre-order for curbside pick-up or delivery, those rules remain the same.
You don't need to be a Massachusetts native to visit a recreational dispensary, you don't need a medical marijuana card for recreational purchases, and you don't need to worry about law enforcement. What you will need, however, is cash.
Due to the outdated and racist federal laws for cannabis, even legal Cannabis Control Commission-certified cannabis companies and dispensaries can't take any form of payment besides cash for cannabis. While lawmakers have proposed legislation that would change that, these legal dispensaries are forced to be cash-only businesses thanks to their lack of access to banking infrastructure. So make sure to stop by the bank or ATM and pull out the cash you want before your trip to the dispensary. This is important to avoid the service fees you'll get hammered with if you use the ATM at the dispensary!
Is Hash Legal in Massachusetts?
Just like other forms of cannabis, the use and possession of hash is legal in the state of Massachusetts.
According to state law, possession of up to 5 grams is legal and possession of up to an ounce only carries a minimal $100 fine. Just make sure you have less than an ounce, because the punishments for possessing more than an ounce are steep. As long as you purchase it from the dispensary or produce it yourself from your homegrown plants, you'll be able to enjoy your hash in peace without worrying about breaking the law!
How Much Cannabis Can I Buy at Once in Massachusetts?
Massachusetts, like many other states that have legalized cannabis, does still have some restrictions on how much you can buy at once. In New England buyers aren't allowed to buy more than an ounce of marijuana at a time, and no more than five grams of any form of cannabis concentrate like crumble, wax, resin, or shatter. You can also purchase up to 20 servings of edibles at a time, which can contain up to 100 mg of THC. That's more than enough cannabis to have a great time on your next trip to Boston.
It's important to note, however, that these same limits and restrictions apply to possession. According to Massachusetts state law, you can only legally possess up to an ounce of smokable cannabis flower and up to five grams of concentrates at one time. You can also only have up to 10 ounces of cannabis flower stocked up wherever you're staying.
It's worth noting, however, that there are no real restrictions or ways to prevent you from buying a lot of cannabis at once. You can purchase the legal limit from one dispensary, drop that cannabis off at where you're staying to make sure you're not holding more than the legal limit, and then you can go to a different dispensary and make another purchase. It will take a little bit longer than being able to buy it all from one stop, but it's not a big enough headache to deter you, if that's something you really want to do.
Do Dispensaries Track How Much You Buy in Massachusetts?
Yes, they do. But not for the nefarious purposes you might be thinking they are. Massachusetts dispensaries use a system called Marijuana Enforcement Tracking Reporting & Compliance, or Metrc for short, to track how much cannabis they sell, how much those products were sold for, and what type of product it was. Basically, it's an inventory system and database of cannabis for states that opt to use it.
So when the state of Massachusetts looks at Metrc, they see each transaction and what was sold. But that information says "customer," so it's never tied to you directly. They don't have access to any information about who buys the products, just what was sold and how much it was sold for. Simply put, it's anonymous.
So while the state does track purchases in a way, it's not to limit your purchases directly. So if you were to purchase the legal limit of cannabis products from a recreational dispensary, go back and store that cannabis in your hotel room or friend's place to make sure you're not breaking the law by possessing more than an ounce, and then go to another dispensary to get more products, that would be perfectly legal!
How Much Does Weed Cost in Massachusetts?
Just like any other newly legalized recreational state, the price of legal weed in the Bay State has been fluid. While it's true that at one time, Massachusetts legal weed was some of the most expensive in the whole country, costing consumers as much as $50-$60 an eighth, that price has come down and leveled out as the legal industry in the state has matured, more dispensaries have opened, and more in-state cannabis companies have hit their stride and found footing.
These days, things are much more affordable for recreational cannabis users. According to data from the Massachusetts Cannabis Control Commission, the average costs per month for a recreational cannabis consumer have been steadily declining since legalization. Back when the legal industry first launched in 2018, the monthly average cost for an ounce of adult-use cannabis was around $390 — a figure that topped out at as much as $400 in early 2019. Since then, however, the price of legal weed has been dropping. It's gone down to $370 or $380 an ounce pre-pandemic, when people were buying a historic amount of legal weed products, hitting a monthly average price of $362 an ounce in September 2021. Simply put, the price of recreational weed products in the state of Massachusetts is moving in the right direction!
Where Can I Use Recreational Cannabis in Massachusetts?
This rule is likely the one that trips people up the most. While it's true that cannabis is fully legal, both for recreational and medical use in Massachusetts, you can't use those cannabis products in public without getting into trouble with the law. You can't spark up a pre-roll on the street like you would if it was a cigarette, for example. Smoking, vaping, or any other obvious type of use of cannabis products in public is technically illegal. It's worth noting, however, that it's very difficult for law enforcement to stop more discreet uses of cannabis. For example, taking a few hits off a disposable vape pen or swallowing an edible treat like a gummy, brownie, or capsule are great ways to enjoy cannabis in public without drawing unwanted attention. To be able to use less discreet forms of cannabis products, like a pre-rolled joint, blunt, or firing up a bong or dab rig, safely and easily without worrying about getting into any kind of trouble, your best bet is a private residence, like a friend's place or a cannabis-friendly hotel or rental property. This likely won't be the case for long, however.
The state's Cannabis Control Commission recently launched a pilot program to open up cannabis cafes and lounges, communal places to gather and enjoy cannabis with friends. Think like Amsterdam, but with Bostonian accents instead of Dutch! While none of these places have opened just yet, likely due in large part to restrictions due to the ongoing COVID-19 pandemic, they're probably not too far off.
Can I Leave the State With Cannabis?
This is a major misstep that has the potential to get you into a lot of trouble. Since cannabis is still federally illegal, crossing state lines into New Hampshire, Rhode Island, or Connecticut, for example, with legal weed products you get from a legal dispensary in Massachusetts is very against the law. Simply put, recreational cannabis products purchased in Massachusetts should be consumed only in Massachusetts. Pushing your luck when it comes to transporting cannabis products that aren't medical can get you into a lot of trouble if you're caught by law enforcement.
And don't think about trying to circumnavigate this no-transportation rule by either flying with or trying to mail cannabis products. Both are highly illegal and you will likely end up with your cannabis being confiscated, at the very least. If you're trying to fly out of Massachusetts with legal cannabis products that get discovered by the TSA, you'll have to throw that product away before getting on the plane. And while the TSA doesn't officially look for marijuana as part of their screening process, they can't just let you slide by with it if they do find it.
If you opt for the foolish idea of trying to mail yourself legal weed, you're likely going to get into a whole lot more trouble than just being forced to throw your cannabis flower in the garbage bin by the pre-check line. Mailing even small amounts of cannabis, less than 50 kilos, can land you in jail for up to five years and straddle you with a hefty $250,000 fine. At the end of the day, it's not worth it to even try it. Trust us on this one; you don't want to find out firsthand. As a general rule, it's best not to involve the federal government regarding cannabis. The outcome for you likely won't be good.
The Bottom Line
While cannabis laws can be confusing for many, Massachusetts makes it about as simple as can be. As long as you're over the age of 21, have a valid form of state-issued ID like a driver's license from Massachusetts or another state, and have the cash to pay for the products you want, you're golden. Just make sure that you aren't carrying more than an ounce on your person at a time, that you and your buddies don't stockpile more than 10 ounces wherever you're staying, and that you don't get caught using cannabis products you purchased out in public in an indiscreet way, and you'll be able to have a great time in New England without worrying about getting in legal trouble!